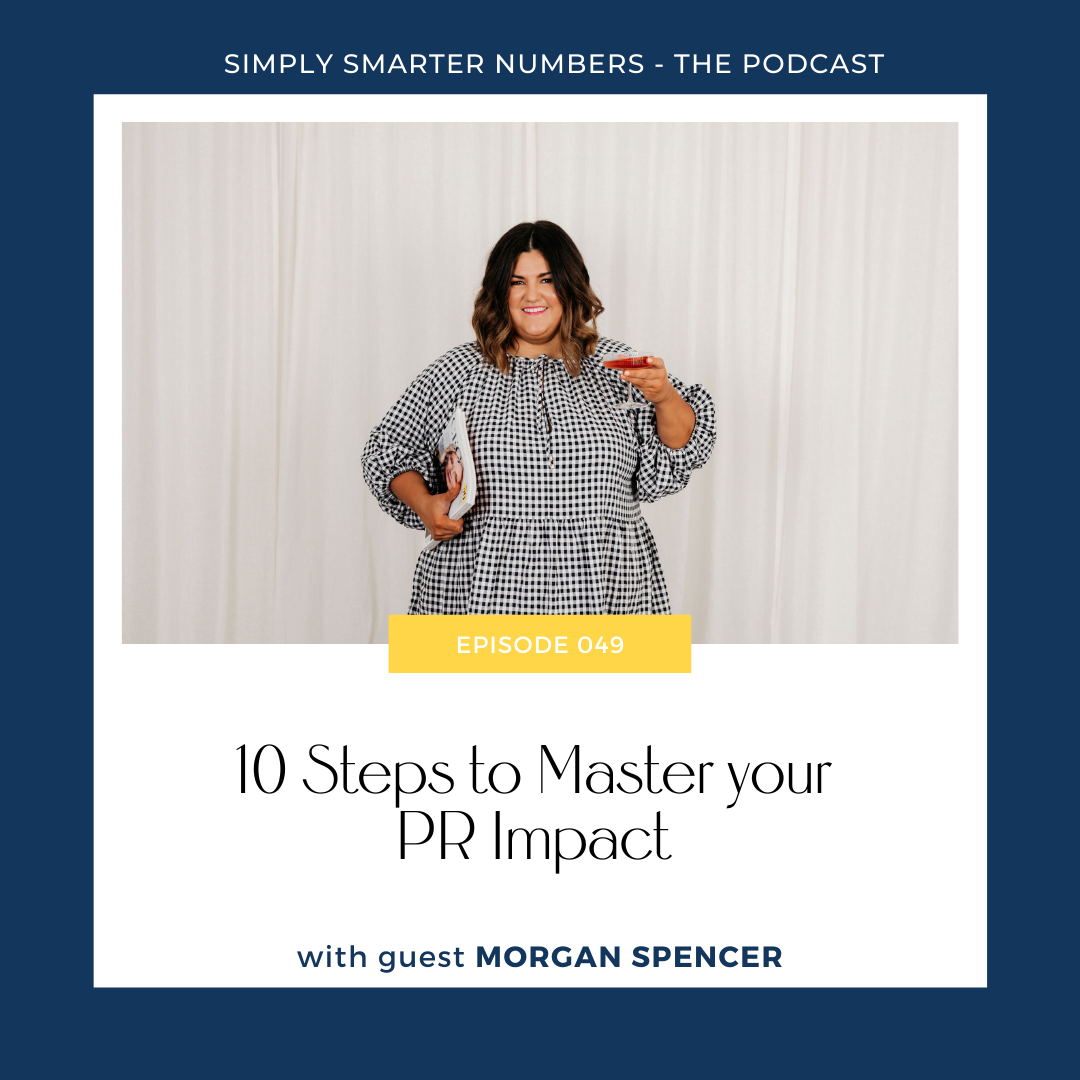 Morgan Spencer is walking us through exactly how to master our own PR impact, gain credibility and become the go-to expert in your industry.
PR mentor, Morgan Spencer, has 10 steps that she takes her clients through and today she is generously sharing those 10 steps with us. Morgan is showing us how to shake things up in your industry through disruptive impactful and powerful media coverage.
Jen Waterson 
If you're ready to up the anti in your business and become the go to expert that you know that you really are, then listen in to todays conversation with PR mentor, Morgan Spencer from Martini Mondays. Morgan has a really good in depth way of teaching us all, what it is we need to do when it comes to putting ourselves out there in the media.
Welcome to the podcast, Morgan. 
Morgan Spencer
Thanks Jenn, thanks for having me. It's awesome to be here chatting with you today. 
Jen Waterson
Yeah, I'm really excited to have this conversation with you, tell us a little bit about yourself. Tell us a little bit about what you do, where you from, and your business. 
I love the name of your business. I would love at some point if you could sort of explain where the name of that business comes from.
Morgan Spencer
Yeah, sure. So I own Martini Mondays which is a strategic PR firm based in Brisbane in Australia and my journey has been quite an interesting one. 
So I come from a corporate background, working in corporate PR for about 10 years and started Martini Mondays nearly four years ago, and we've sort of evolved from more of an agency structure to now being an education business for aspiring expert. 
The name Martini Mondays has a bit of an interesting story to it. It was actually a bit of a nickname that I picked up when I worked in our PR agency in Sydney. 
I was all I was given the nickname Martini Morgs 'cause I loved a martini.
It was quite a well-known thing in the office I was in and I remember one Monday afternoon after work going for a drink with some of the girls I worked with and we had a martini together and the name just sort of stuck and I really loved the name and I felt like it really summarized my life approach to business and life. 
Like I'm quite a fun, outgoing person and I love that when you're enjoying a martini with someone, you're sharing great ideas and there's always good vibes and it also has nothing to do with PR in the way that it's not called Martini Mondays PR or Morgan Spencer PR like a it was quite different in my industry and really stood out and another element to why trades that name as well is I really believe in a shaken, not stirred PR formula that I use and it just sends out a little bit more and makes a little bit more fun and exciting. Yeah, that's me in a nutshell. 
Jen Waterson
Yeah, great, it's a great name. It really does stand out. I love it.
So you said at one point you were you started out as an agency and you've just sort of changed that around in the last couple of years or so. 
Morgan Spencer
Yeah, it was a very big shift for me, so I always started off as an agency style business. So working with a number of clients in different industries on their PR strategies and branding, communications and towards the end of 2019 I decided that I wanted to go into the more the more education sectors so really wanted to work with people one on one as a PR mentor. 
Really focus on honing on our strategy and education, and since then, we've really pivoted the business into being an educator in this space through one of my one on one mentoring strategy and now digital products, which has been really exciting.
I think for me it was a personal reason and a business decision. I really wanted to have a little bit more freedom and flexibility in my life and I also wanted to impact more people. 
And I love that one on one element of what I do. I love getting to really know people and the cusp of what they do and really empower and help them.
I think PR is such a teachable skill. It's a really easy skill to master once you sort of know the formula and how it works. I think it can really change people business and to me that's just really exciting. And I wanted that to be available to as many people as possible. 
Jen Waterson
Yeah, PR is one of those things that can be so a little bit overwhelming and intimidating. You know, to really put yourself out there so and I feel as though if you do have that one on one mentor, which is what you do more of these days, I think that's really the key to helping people push through that level of you know, am I good enough? Is anyone going to want to listen to me and the things that I have to say? 
You know, really all the awful things that will roll around in our head. And I think we'll get to that at some point as well and sort of talk a little bit more to that all sort of that mindset side of it, but it's it is an intimidating thing. 
Morgan Spencer
Yeah, absolutely, and I think that's the first step. Is the  mindset around it. A lot of people get quite overwhelmed by it quite quickly and then don't do it, and I think it's like anything in business with my learning, a new skill like I know for myself numbers is definitely not my area, so that's probably something that I don't feel as confident in compared to PR and other and other aspects, and I think it's the same thing when people learning a new PR skill they get so overwhelmed and just feel like they can't do it, it's unattainable skill. 
So I that's really what I'm here for, just to show people what's possible and that once they overcome what's holding them back, like amazing things can happen. 
Jen Waterson
Yeah, so with PR, is it really the crux of what it is that you're helping people do? Is it to lift them to an expert status? Is that a big part of it when it comes to PR? 
Morgan Spencer
Yeah, so being part of what I do is going through a bit of a process. So the first process is always looking at your mindset, 'cause your mindset as you know or determine all your actions and in actions and business and a lot of the time it's because people don't feel like they're parable or they're not expert enough, or they're not ready to do PR. 
So I help them with that process first and then guiding them through how do they really become the expert and go to in that industry through achieving as what I call expert media coverage? So that means strategic media coverage that positions them as the grocery person in their industry, which means that they become the first choice of their clients and customers, and I do that through a 10 step framework with my mentoring clients and now through my digital product as well. 
Jen Waterson
Yeah, I'd love for us to have. 
A bit of a walk through that ten step framework because like I say, PR can be really intimidating and overwhelming. 
And where do you start? And all that sort of thing, but I know you're going to agree with me on this one, Morgan. I cannot actually think of a faster way to become an expert in your field than quality PR like for me. It's a real deal breaker. When I'm wanting to work with somebody when I'm wanting to put my hand in my pocket and give somebody a sizable sum of money. 
It has this like instant credibility that comes with appearing in the right media. It's a real kind of supercharged, isn't it? 
Morgan Spencer
Yeah, absolutely. And with our strategic media coverage and expert media coverage, you basically are being viewed in the spotlight by a journalist who's written about you in a favorable way. 
So regardless of advertising, which is quite different, you're essentially putting yourself out there and you're saying these things about yourself when you do PR, someone else saying that about you as well.
You're very much positioned in a very positive light, and having said that, though, focusing on the right media opportunities is really important, because if you're producing their wrong messages to the wrong audience in the wrong platform, that's not going to come across. 
And that's why I really focus on the strategic side of things. But it has huge potential, and I've seen first-hand like what my clients have been through as well with the media coverage they've received and how their business has grown as a result of that, so it's really exciting. 
Jen Waterson
Yeah it is, and I know myself I always will go to you know we tend to land on people websites if we're looking at working with somebody and when you're on that website and it comes, it says as seen here or as featured in or whatever it might be. Those media outlets, whether their publications or their television or whatever it is, that is crucial, I think to just speeding up that process of me going okay you are somebody that other people have already ticked. 
They've said that this person knows what they're talking about, so it's kind of like I get to just skip over all of that part and go well, this person is an expert, it's proven because all they've appeared in so many different publications or whatever it might be, so I feel as though it's just once you can get yourself your own head around how you can use it in your business then it's a really critical piece to growing your business. 
Morgan Spencer
Yeah, absolutely. You're spot on there. It's yeah, very powerful and I think the funny thing is a lot of people assume it to be an expert, you need to be extroverted and super outgoing and you need to have all these skills where a lot of my clients are actually highly introverted people and they've had amazing results as well, so it's it can be who you want to be and still be an expert. 
Your clients will come to you. They can see the real you as well. So I teach a lot about not being scared to be who you really are, because that's your superpower. That's your magic to be who you are, and people will choose you because of that as well.
There's definitely a lot that goes into it, but it's not as simple as just pitching a story and getting media coverage. There's a lot of preparation that we do to get you to that point. 
Jen Waterson
And I guess this strategy is there so that you're not just wasting your own time in the meantime. 
Morgan Spencer
Yeah, absolutely for sure. 
Jen Waterson
Well, let's run through the ten step framework that you work with, for mentoring clients. 
Morgan Spencer
The first one is master PR mindset is the very first one, and that's the very crucial start. The start of the process where we really go through your mindset and so we address limiting beliefs we talk. 
about potentially things that are sabotaging you and sending you your mind set up to a really successful start to your PR journey as well. So that's a five step strategy that I work through, one on one with clients. 
Jen Waterson
Are we tough nut to crack when it comes to getting our own heads around PR or by the time people have come to you and they kind of like all right I want to do this. I'm here. Let's make it happen. What? What do I need to do differently? How do I have to think about this? 
Morgan Spencer
Yeah, well like the funny thing is that when people come to me they're ready to do PR and they really want to be seen as the expert and they don't realize there's a mindset component as much. So when I take them on that mindset journey they were like wow. I wasn't expecting this and it's so great to see the transformation in them because not only and they now positioning themselves as the expert, they're going on to do other things they never did before because they've got that confidence. 
Jen Waterson
Yeah, so you've elevated their confidence just in that very first initial step. 
Morgan Spencer
Definitely, and I'd have to say that's probably what I love the most about mentoring, like seeing that transformation. 
It's such a great feeling when someone really overcome something that's held them back for so long, and now they're just doing it and they can see the difference in themselves. 
So as much as I'm helping them getting the result, which is the PR coverage, I'm also helping them overcome a huge hurdle of their limiting belief as well. Which to me is just a really rewarding feeling. 
Jen Waterson
Yeah, and that that's something that's transferable to every other aspect of your business. 
Morgan Spencer
Absolutely, and we have that confidence in ourselves and we could really back ourselves and put ourselves out there like it's amazing what we can actually achieve. 
It's when we have the in action and the overwhelm and the frozen feeling that we can't take that action. That's when it  is really hard for us to progress further in our businesses, and I believe that we all feel it like I feel it myself and I know that so many others do like it's normal. 
Jen Waterson 
Yeah, it's easy to just start putting things off and you don't really know why, but you know one minute you're you've got all these plans to put together articles or approach different publications or whatever it might be, and all of a sudden there's every excuse under the sun to not make it happen, so I guess that's  number one then. Getting that mindset sorted out. 
Morgan Spencer
Number two is identify your audience so this is the first step when we think of doing any PR we really want to know who we're speaking to, so we look at who our clients are, who our customers are, and their overarching public and audience that we want to reach as well. 
So that will really determine the strategy of the PR that we do and the media outlets we work within. The stories that we share will always be dependent on that. 
And you'd be surprised how deep we go into this process as well. A lot of people know who their clients are quite well, but we just go into the nitty and gritty a little bit further with that process. 
Jen Waterson
Yeah so is that just the experience that you bring to the table there to say okay well my audience are women in business who are aged in their 30s and 40s and they're running businesses. They're very busy. They're successful. They're looking at either going to an agency model or they're looking at going from an agency model to change things up. You know, like at what point do you then go okay you need to be talking to this publication. 
Or is it just this just the start of that conversation? 
Morgan Spencer
Yes, we really look at who their customers are and the psychographics around their customers like what we do in marketing and we really want to look at what kinds of media they're consuming. 
What kind of stories interest them? So, for example, if you're an accountant and your target audience or small business owners primarily theme out, we really want to look at where are they being, where they what are they reading? What are they consuming, and what do they care about right now? If we make out messaging and our media approach very bland, that's not really going to connect. So we just really need to make sure that we really understand who our customers are and everything about them before we can actually start doing anything. 
Jen Waterson
Yeah, and that's I guess that's what you're bringing to the table big time is the experience of knowing that this particular audience that you have identified they are very interested in reading these types of publications or they watch the morning show on the television every morning. 
I don't know like that's kind of where you can marry that. Marry up the two, whereas we as business people are really just guessing. 
Morgan Spencer
Yeah, absolutely. And as business owners we have to know a lot about a lot about our customers as it helps U.S. market to them and speak to them and sell to them. 
But when we look at our PR, we just sort of take it that little bit further, because that really will determine your media strategy. So it's really important to take the time at the start and just get that right.
It would be surprising how many truth bombs you have through that whole process as well. Like you realize? Oh my, gosh like this is how I should be speaking to my customers. This be doing as well, so there's always a few golden nuggets that come out.
Jen Waterson 
Yes, you can think you know your audience really well, but when you actually sit down and try to articulate it maybe it can sort of shine a bit of a light on some areas that you're perhaps not really that sure about. 
Morgan Spencer
Definitely yeah it's very important, and it's a really good process I think for most business owners to go through anyway. 
I think more knowledge we have of our business and of our customers like the better decisions we can make. 
Jen Waterson
Yeah, definitely OK. Moving on to three.
Morgan Spencer
Number three is my favorite. It's message magic, so this is when we put together and discover your message as an expert. 
So I explain this in a way that when you have a message for your business and just think of like your by on your social media page, for example, that's essentially what you do so  again you could be a copywriter or code, so that's what you do, but your expertise is different to that, and that's we really want to get clear and that's what we position you as. So we spend the time crafting your expert message. 
So for example, you could be a copywriter, but you're really a sales copywriter. For course creators.
Jen Waterson
Okay and that's  obviously coming directly from the previous step, which is having that clarity around who your target audience really is. 
Morgan Spencer 
Yeah, and I also, I guess, like what you want to be known for. Like what is the problem that you're solving? That's the biggest question I ask. 
And if you're a copywriter like, you're not going to be doing copywriting for everyone. There's going to be like a niche of people that you help and you help them solve a particular problem. 
You want to be the go to person for that problem and so that we build your message around your expertise in that regard. So we get really specific and I spend with my one on one mentoring clients, I spend a lot of time on this, so it's definitely a very important part of that process as well. 
And another exciting stage as well. Like a lot of people are so surprised. Oh my God, I'm an expert at this so they get to realize what it is and they get to go through the journey as well. 
Jen Waterson
It's in a good time for people to sit down and really think about the precise message that they want to get across because we can get kind of caught up in chopping and changing our minds a little bit and one minute where we're talking about A and the next minute we're talking about being in the next minute. We're talking about C, and we do that just because we can. 
Because we do know a lot of stuff, but by having the opportunity to really hone in on that one message gives you a chance to get really clear with your audience. 
Morgan Spencer
Yeah, definitely yeah. Absolutely very important. Part of the process. So I'd say that we probably spend more time at the start in the strategy and the messaging process because once we do that, the pitching process becomes a lot easier. 
Number four is strategy game plan, so that's where we develop your  unique strategy, your expert strategy. So that's where map out everything. 
So we're looking at considerations that happening in your market. In your industry. Look at your target. We've obviously looked at your target audience already, but we're basically keep putting that all together and we're looking at other things like psychographics keywords, key media outlets, and things like that as well. So basically pulling it all together. 
It's a nice strategy and  that just means that it makes it makes your time so much more efficient because you know exactly what you know, what the plan is. You know what the game plan is so you can go out there and execute as well and get those good results. 
Jen Waterson
Yep, so is this kind of like a written strategy that's there that we can refer back to time and time again. 
Morgan Spencer
Yeah, so when I work with clients one on one as their mentor, they do receive a strategy for me which has all of that included. 
But in our digital product that we're about to launch, we have that as part of the course as well, so it's easy for people to formulate themselves and then refer to throughout their journey. 
So that makes it so much easier. Like anything we do in business if we don't have a road map, then we're just sort of like going about it with no real idea what we're doing. 
Jen Waterson
Yeah, and I don't know about you, but I'm a real visual learner. If something is not written up or drawn in a flow chart or a picture or something that I can refer back to over and over again. I'll just I. I have trouble letting it sink into my head you know I have to see it there, so having like that written strategy or map or template or something that you can go back to time and time again just keeps you in focus with where it is that you're actually going. 
Morgan Spencer
Definitely, and I  sometimes think strategy gets a bad rap because I think we're so focused on execution and getting that result. 
But if we don't have the strategy component, we won't get the results. So we really need to make sure that we're spending enough time getting that right, because that's going to make your execution time a lot more seamless and more efficient. 
And as a result you are going to get a result quicker. So I really try and emphasize that strategy is highly important. I think strategy is important in anything in business. Without that strategy, it's going to be hard to get that result you're looking. 
Jen Waterson
Yeah, you're flying blind. Yeah, nobody wants to do that. 
We spend too much time in our businesses. We want to get it right sooner than later. I definitely know that if I was working with anyone else, I'd  want to have a strategy to just get that confidence that I know that I know what I'm doing. So fill us in on number five. 
Morgan Spencer
So number five is defining your genius zone, which is really exciting. So once we've craft your expert messaging, we then really need to look at your area of genius, own and get really specific, because that will then base your content and messaging and what kind of PR that you do. So, for example, you could be a graphic designer helping people helping businesses in the conscious space. 
So you want your content and your genius own to be showing that you are the expert in the conscious space of business. So you want your content to be tailored towards that very specific area, and so that's where we map out your genius zone. That's what I call it. 
Jen Waterson
Yeah, I like that. I like the idea of having that real clarity around what your genius zone really is. It just enable it now allows you to maintain that focus the whole way through. 
Morgan Spencer
Definitely, and I think it's so easy to move away from that when you see media opportunities come up, but then you just really realize actually this isn't going to be a good opportunity for me because I'm not going to be sharing what I want to be sharing on what I want to be talking about with my direct audience, and I want to be known for something and being an expert means being known for something. 
Jen Waterson
And it's okay to say no to opportunities that come your way as well. 
And I guess that's the other thing too. It is that once you do get yourself out there, opportunities will just naturally start to flow your way, and at some point you do have to stop and say, well, hang on a moment. Do I really need to be spending my time on this one, and is that going to get me the results that I was after going by my strategy game plan that we've just put together? 
Morgan Spencer
Definitely yeah, and I think once they've got that clarity around their genius sign, it just becomes so much easier. They know it to look for the not messages to share their not media outlets are going to be good for them. Everything makes sense. 
So number six is forward thinking focus. This is probably one of the aspects assets that makes me different to most PR strategists out there.  But I believe in always staying ahead of the game, so always knowing where the industry is going, always knowing what's happening in the news agenda and the world. So that you can tailor your PR strategy to be seen as that forward thinking focus. 
So we look at forward thinking focus. So for example, it could be what's happening, what's happening if you're a business that services in New Zealand area, what's happening in New Zealand right now? What can you be doing as a business in Australia tailored to that market? What's happening in if you're a leadership expert, what's happening in the world of leaders in the leadership space? What are you doing that is gonna supercharger industries that's to that next level? 
Jen Waterson
So is it about kind of like being a thought leader
Morgan Spencer
Yeah, so it's a little bit like being a thought leader, but looking beyond what's happening like where is your industry going to be in like two or three years  forward focusing time if that makes sense? 
Jen Waterson
Yeah it does. It does make sense so these days I'm a business consultant. But my history is in accounting and we've spent many years looking at and we do own an accounting business that my husband runs. 
But in our many years working and owning an accounting firm, we've spent a lot of time doing exactly that, like looking forward and trying to determine where the accounting industry is going to go as a whole, because you really need to have a grasp of what the future holds, not just for you as a business owner, but what the future holds for your clients as well. So it's a great sort of thing to be really conscious of anyway in life. 
Morgan Spencer
Oh absolutely, yeah. And just by reading the news and just knowing what's happening in the world and what's happening in your industry is such a good skill to have. 
And I think I make this a conscious step at my framework so that we are taking the time to really look at what's going on. Like for example, I've had. I've had like Australian clients market to New Zealand, before any of their competitors are, they're now getting on top of their demographic before any of their competitors are like things like that. 
If you know what's happening, you can make those decisions and then you can adapt so it's just having that knowledge and it's just being mindful of what's happening around you. 
Jen Waterson
Yeah  definitely okay. I like that one. I like that you include that because it's it. It is something that we do from time to time. It's easy, it's going to be easy to skip over that. Easy to ignore it. 
Morgan Spencer
Definitely, and I think having a 10 step process it really covers so much just really sets you up for success. 
Jen Waterson
Yeah, and I can see also that one in particular also being really helpful with a lot of other business decisions that you make within just normal business life, you know. Strategic business decisions that you're making all the time. 
Morgan Spencer
Yes absolutely
So number seven the next one is called a status of industry game changer. So that's when we take a pause and we really have a look at the  status that we've achieved from now being that industry game changer for our customers. 
So now that we've  defined our audience, we defined our message now to find our strategy. And now we've defined our genius owner forward. 
If you plan so, that's what is the next step. So that is when we craft the what media we're going to be attracting the conversations that we're having, and we're sort of. We're having those conversations with the media as well. We're doing reactive commentary for PR and we're really taking that step to really hone in on our industry game changing status. So that's as well like getting comfortable with the expert that you asked that would be showing up on social media differently, communicating differently and just really making sure that you're really showing up as that expert that you want to be because that is all part of it, and that's why the mindset is really important to because we want that to be a confidence booster. 
But we also want to make sure that you're showing up as that experts that people are aware that you are that expert.
Jen Waterson
So you're about more than just here's an article. Does that article say the things you want to say, and is it going to go into the right publication that's going to be something that your target audience will have the opportunity to read.
You're also about saying OK, how can we take everything that we've done to date and insert it into the rest of your business like you, your social media and so forth? 
Morgan Spencer
Yeah, because being an expert means you have to live and breathe that expertise like it has to be has to be in marketing. It has to be in your social media. You have to own that because if you're only doing it for PR purposes, people read right through that.
PR benefit and not because you want to be that expert and you want to be seen as that expert.
So it really needs to be holistic. It needs to be across everything and you really need to live and breathe that almost like you're waking up every day and you're just like, Yep, I'm an expert at this. 
Jen Waterson
So from your website to your socials to the way you're speaking to your clients to any live work that you're doing as far as you know, speaking events and  whatnot. All of that really can come together once you've put in the hard yards over those first sort of few steps that we spoke about. 
Morgan Spencer
Yeah, absolutely, and I look at myself for an example. And like I'm a PR strategist and the fun friend and I'm that person on the weekend every Monday to Friday like that's who I am it's in my DNA.
But that's something that you need to you need to live and breathe that you need to believe that you are that expert that people coming to. 
You need to show up as yourself authentically that needs to become like a daily practice for you. And that's another reason why I actually have worked on some really fun PR affirmations for my client and just like daily prompts, they can read and listen to whenever they're doubting themselves. Just to remind themselves that they are here as the expert and they need to show up as the expert. 
Jen Waterson
Yeah, I guess it's just always you need to continually be reinforcing step number one, which is around that mindset, because it's mindset you don't just like click your fingers and of a sudden all of those fears and concerns have gone away. You need that constant reminder. 
Morgan Spencer
So number eight is story time, so that's when we get to craft out all of our stories. So all of our headlines, all of our messages, all of our content. What are we going to pitch? Who are we going to pitch to? What does that look like?
So that's mapping out the entire story process as well. So I help my clients with developing headlines , News releases, media pitches, media alerts. All of that is included in that sort of process in step.
Jen Waterson
Here's a question for you. Do you need to be able to write to be able to do a media release. 
Morgan Spencer
No, because I help you. So when it comes to a new developing a media release like we follow like a pyramid method. Basically, that's putting the most important information to the least important information, and I have a template for that. 
And I also help my clients one on one with developing their messaging and their media materials as well. So it's like anything in terms of developing a new skill. It will feel scary at the start and you may feel like you're sitting there looking at the screen. Not really sure what to say, but once you start it becomes easier. It gets easier and you develop the I guess the skill for it. And like the pattern and the and the template just makes it a little bit easier. 
Jen Waterson
Yeah, I think I could see what you mean like if you were to have a template there that says, okay, well, what does the template sort of Sadie like can you? Do you have an idea like off the top of your head the rough sort of outline of what it is we might pull together when it comes to creating a media release. 
Morgan Spencer
So in the templates that I have, I actually have an example, so I have an example of a just a made up story of another business that they can use and fully as an example and it will. 
Which really helps him just sort of like visualize. OK, this is how it's going to look and then they will also have a template which goes through you. 
Pop this here. You pop this here puppies here. Just fill in the blanks and it becomes a lot easier and then I can always help them as well if that any struggles come up which I do with my one on one client. But it's all there to make it easier for them. 
That's all available in my digital course. All full templates that basically copy and paste. 
Jen Waterson
Yeah, I always find that really helpful when you do have a couple of examples there that you can just follow through and try to apply your own content to that.
Morgan Spencer
Yeah, definitely it makes a lot easier and I know how scared it is learning a new skill. Like if I was looking at some form of accounting spreadsheet I would have known if you were to start be like what is this.
So it's just like it's just practice. Yeah small practice overtime and like small changes and tweaks and things like that. But it's so achievable like it's so like you don't have to be an expert copywriter or. 
Or anything like that to give it ago. It's really an accessible skill to everyone, which is why I teach it, because anyone can learn this and anyone can get results if you if you're willing to put in the time and effort to learn, anyone can.
The number 9 is called meaningful media relationships and that's when we really start to build relationships with the media, which I give a road map and a template for, because PR is all about relationships, so it's all about building relationships with them media, podcasters other business owners like people in the media space because the more people know about you, the more they're going to come to you when they have an opportunity and they want to know who you are, what you're known for. 
It's also unmindful and respectful way to go about getting media outreach as well. Like at the end of the day journalists or people working a job like everyone else and the more that they you take that time and effort to go that extra mile for them, they're going to remember that. And they're going to remember you, and they have a story opportunity and they're going to come to you. So they're not scary people. They're just everyday people like you and me, but it's really important to get to know who they are, so that for one, you know who you're pitching to. You know what they write about, you know what content they share, but it's also important to build a relationship with them. So you've established that connection with them. And they know who you are. You're not just another blanket pitch in that inbox. 
Jen Waterson
And do you help people connect with the media? 
Morgan Spencer
Yes I do. I do for my one on one client, so they also provide a basically a road map so that you can go out there in my course.  So how do you go up there and develop relationships in the media? What do you say? What do you do? Where can you find them?
They're all things that I include as well, and they talk about things like why you should be following them on social media and looking at what they're writing about and reading the stories they produce, reading the content that they're running about and the interviews and case studies. All of that's really important, because if you don't know that you can't pitch to them. 
It's going to be like pitching a fashion story to a sport magazine like you're not gonna know what what's going to be relevant. Spending the time researching that and connecting the journalist is such a valuable skill and I recommend that anyone does it before they even consider writing a pitch. 
Jen Waterson
And when you say write a pitch is that the media release?
Morgan Spencer
Yes, a pitch can be a number of things, so if there's a news story which was, which would be the instance that you write and media release, you would do that in a pitch form, so you'd write the media release and a pitch to go with it and send it off. 
You'd also produce a picture of byline, so an expert by line is an article that you've written on a particular topic that you're an expert in and you would send that pitch to get that basically published. 
Then you can do like a media alert you can respond to. Just say there's like a breaking news story happening in the news agenda, if you've connected with a journalist, you could reach out to them and say, hey, I know that this is happening, I would love to make a comment on this issue. I feel like this would really add value to the story and communicate that with your audience. Or something like that. 
So there's  direct pitching and indirect pitching, and there's a number of different kinds of pitching that you would need to do, depending on what it is that you're putting forward. 
And I have all of that included in all of my templates, so you know what you should be pitching and the kind of style and what should be included. But there's definitely a number of different ways that you can pitch
Number 10 is media domination, so that is the last of it. That's when you're being featured, the media and you're consistently practicing a skill like we don't stop once we've got the one piece of coverage like we keep going and it's developing that skill and being consistent.
So yeah, getting seen in the media and re practicing and like focusing on. And you pictures that you can be putting out there, like looking at the news. I highly recommend absorbing the news every day. If you are wanting to do PR, it's the only way that you're going to know what's happening. But yeah, that's like the end so not the end of your journey, but like the end of the process.  And then you're just repeating it over and over again, so it's such an easy skill to master, and especially with like a ten step process you know exactly what you need to do. It's sort of a no brainer, really, like it's so accessible for experts now to be seen in the media and really change their business. Like just repeating a few key skill. 
Jen Waterson
Yeah, great, do you also help people get on other people's podcasts as well? Is that what you is that something you would consider as media? Or I say with their fingers.
Morgan Spencer
Yeah, definitely. And another thing that I will mention as well is when I do work with people one on one being seen as an expert is different to everyone. 
So for example, for one person it might just be being seen on podcasts regularly, and being able to talk to their audience for someone else it might be consistent media articles for someone else. It could be radio for someone else. It could be speaking like it's different for everyone. 
Everyone, so we really look at what it is that you want to achieve and what kind of expert you want to be because there's really no set strategy, there's like lots of different things as well.
I think podcasting is a really good place to start to really build your confidence, especially if you haven't done any media before. It's a really great way to build up your confidence and get really good at sharing a message. 
Jen Waterson
Yeah,  I think it is too podcasting on other people's podcasts is can be kind of nerve wracking to start with when you're first getting into it, but it is the best way to really find your message and hone in on that. It's like when you were at school and you were learning how to do something in math and you just didn't get it until you sat there and tried to teach your friend that was sitting next to you and  you teach them how to do it and then all of a sudden it means more to you as well. 
So it really helps you to hone it in. 
Morgan Spencer
Oh absolutely, just the other day I had one of my one on one clients she sent a pitch out that we worked on together to a few podcasters and within half an hour or three of them said yes he was going on those podcasts and I think that really helped with our confidence as well. 
I think something like that should go in those podcasts and you'll get more confident she will speak about her message clearly and then and then the next time when she looks at maybe pitching to media articles, it's so much easier because she's sort of got that confidence and everything as well. Also, really good practice if you ever want to do radio interviews or public speaking as well. 
Jen Waterson 
Yeah  great yeah perfect and podcasts are they're actually easy, like if you're going to mess something up. It's okay. It doesn't matter because whoever it is that you're podcasting for, they edit them out you know they fix things up and it's  not as intimidating as it does sound.
So yeah, definitely worth while working on some pictures for that sort of thing. 
Morgan Spencer
Absolutely. And another thing that I didn't mention to us. I also our work with clients on media training too, so that's getting them prepared for podcasting for speaking after interview so that they are just so prepared and so confident. Now once you're sort of used to that, it becomes easier. But yeah, just having that confidence I think just really helps at the start of the journey. 
Jen Waterson
Yeah, well I love that you're offering such a thorough mentoring process for the market, because sometimes it can just be a little bit too I don't know a little bit hit and miss. We just want to write up an article and have it land in some publications so we can put their logo on our website or  whatever. That's kind of 1 tiny little piece of it, but to do such a thorough investigation into what it is you are trying to do and your genius zone and the forward thinking focus. It's all stuff that you can take away and put into other areas of your business as well. 
Morgan Spencer
Yeah, it's  a life skill. It's a business life skill I feel and I like taking people on this journey like they're getting so much more out of it than just learning how to pitch for themselves. I think it's like when you work with a business coach like yourself as well, like you're gaining so much knowledge than the result. And I think that knowledge is power as well. At the end of the day, like and then you can make those great decisions as well. So I really love taking people on the journey. 
Jen Waterson
Yeah, great. Well where can people find out a little bit more about you? 
Morgan Spencer
Well head to our website which is martinimondays.com or come and say hello over an Instagram. We are martini Mondays. You probably see a lot of martini photos. But I'm really friendly so you come and say hello and if you've got any questions at all, always welcome. 
Jen Waterson
Perfect well, thanks so much for coming on the podcast. I really appreciate all of the insight and you've done such a good job at breaking it down for us and showing us that there's a little bit more to it than just like whacking a pitch out there and shooting it off to the media. But at the same time making it feel really accessible and doable. 
Morgan Spencer
Oh yeah, thanks friend. It's been so fun and I'm chatting to you and talking about all these things. And yeah, it's just great. Catch up with you as always.