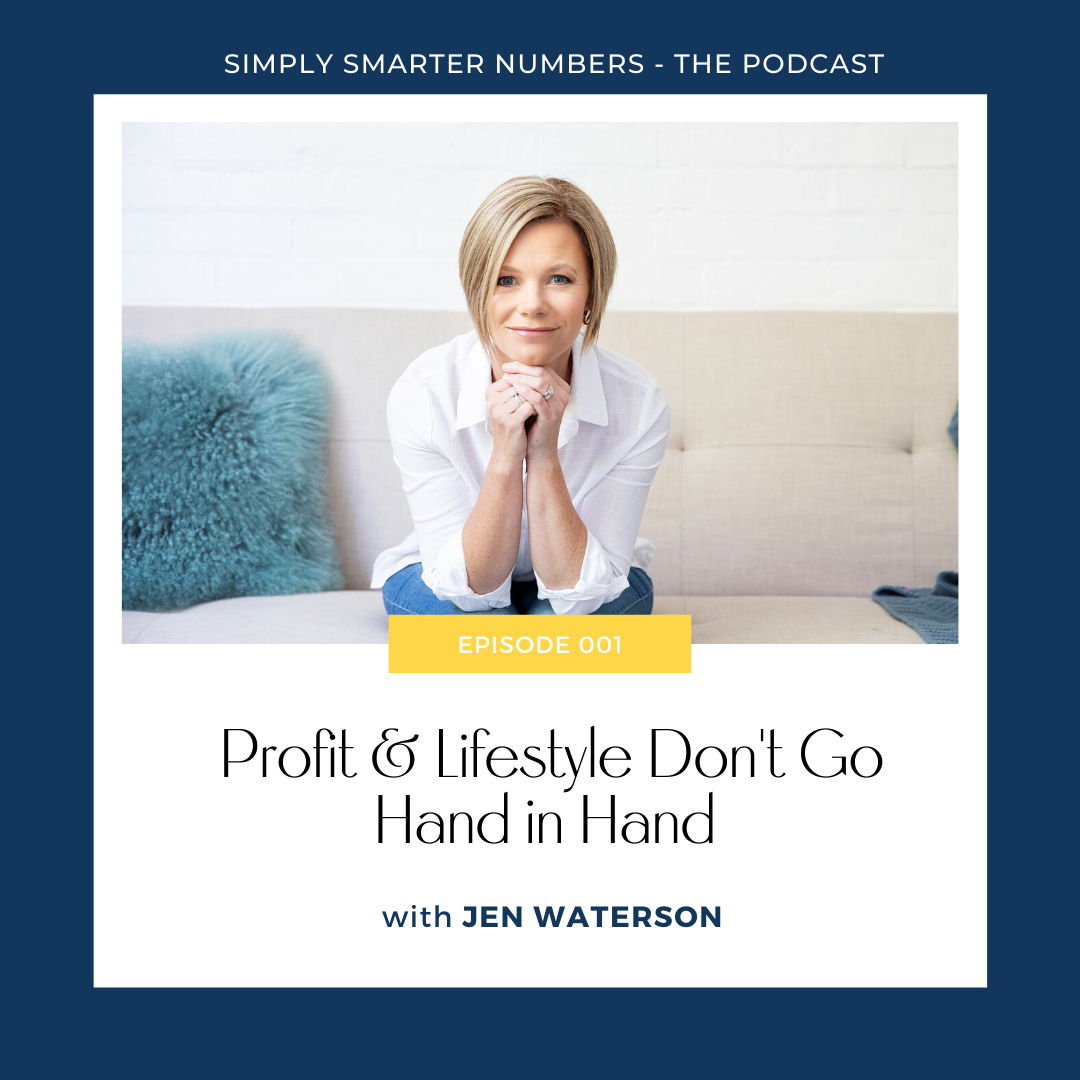 Cringe. Overwhelm. Scary.
The three words (sadly) used to describe Accountants, CPA's and the overall sorting of your finances. But what if numbers left you feeling, dare I say…  energised, informed and confident?
And better, be the catalyst to driving your business forward minus the "what-if's?" Well. It can.  Sure. Numbers and strategy aren't always the sexiest part of business. But here's the cold hard truth. 
At the anchor, every business decision is underpinned by numbers.  Now. While this podcast isn't dedicated to pure numbers for the sake of numbers.  It is dedicated to showing you where to put your energy, to make more profit, intelligently.
You ready to not only up your numbers "know-how" but your profit and reclaim your time and improve your lifestyle?  Well, this is the podcast for you!
Hi, I'm Jen Waterson. Business Profit Coach, ex-accountant and while I'm actually NOT a numbers person, I do love what numbers can do for us in our businesses. I'm here to help business owners make more profit and take back their time!
  
In this episode I talk about what a business 'profit' coach is.  I give you my perspective on how we should be looking at our businesses.  And while yes – profit is one of the most important things, of equal value is the lifestyle that our businesses give us.
Hello, and welcome to the very first episode of Simply Smarter Numbers, I couldn't be happier that you've joined me today.
I'm your host, Jen Waterson.  I'm a business profit coach – and what better topic to talk about in my very first episode…. 
Why a Business Profit Coach and what is a business PROFIT coach anyway!?  
Well hang around for this episode and you'll find out.  But I'll drop a hint here – it's got everything to do with improving 2 things – you guessed it – one of those things is Profit.  The other is super important and it's often assumed that it comes hand in hand with more profit… it's maximising Improving your Lifestyle.  
Well, at the risk of sounding like a 'glass half empty' kind of person, Big Profits and a Great Lifestyle definitely don't come hand in hand.  It's not to say they can't – But keep listening and i'll explain that in a moment!
But before I get into it – have you hit subscribe yet?  Hit subscribe now and you'll get a new episode of practical, profit filled goodness each week!
Now let's get into it.
Business. Love it one day, hate it the next, we all start out the same way – with big business dreams. Dreams like – a better lifestyle, we get to work when we want to work, to make an impact, to make more money – but you'll do it your way, we could buy our dream home, we will travel more and so on and so on.
For me, it was hands down the 'work when I want to work' factor. That was my goal. I'm turning 46 this year.  My 3 kids are nearly all adults. I've spent the past 20 years working – A lot.  So now, 'work when I want' is really important to me.  I've spent years working and not being around, but that was then, this is now.
These days – I CAN 'work when I want'.  I can play golf when I want, we can travel where we want, when we want, for as long as we want.  That's the lifestyle we wanted to create for ourselves. AND our Businesses – I guess, are the Vehicle for that lifestyle.   This luxury didn't happen by chance or by accident.  It happened by design. We created it by building a business that is not only one we enjoy but is also Profitable and Lifestyle friendly.
Of course, this didn't happen overnight, there was a steep learning curve, and the biggest learning curve for us is what inspired me to build Simply Smarter Numbers – both the business and the podcast.  But, before I tell you that one huge learning curve – I should take one step back and quickly tell you about this other business of ours that I'm refer to.
We own an accounting firm – happily, I'm not an accountant these days people – that's our other business. I happily worked my way out of that business a few years ago. Basically, I Loved working with business owners, hated working with tax!  My husband still loves the stuff so that business is his primary focus right now. Simply Smarter Numbers is my baby.  This is where I get the chance to take all the stuff I learned and loved doing in the other business and help other people create profitable businesses that are also Lifestyle Friendly.  So Simply Smarter Numbers is where I spend my time these days as a business profit coach.
So back to this one big learning curve that I mentioned before… it was this; That working hours and hours, being away from home, being on the road – might make the business more profitable.  BUT it's no way to live.  We had kinda fallen into the trap of working longer, harder hours and building a profitable business but it was hardly lifestyle friendly!  We could go days without seeing each other or the kids.
That whole 'work when I want' business dream well – it just wasn't a reality. So we made some changes.  Some big, some small.  Some tough but mostly they were actually quite simple.  Mostly the changes were just plain old smart.  Smarter than what we were doing before.
Changes like;
Let non-performing team members find a new future
Making the decision to only work with particular types of clients
Hiring the right people to do certain roles in the business
Making a list of things we are going to stop doing, start doing, continue doing, all based on our long term goals
Implemented a specific process that gave everyone in the business a new direction and allowed the team to work together more effectively…this process still exists in the business ten years later.
Perhaps one of the biggest things we did was hired a coach who educated us, guided us and challenged us to take our business beyond what we thought was possible.
And it's all of those changes, re-adjustments, tweaks, everyday practical things that I want to share with you in the coming weeks and months on the Simply Smarter Numbers podcast.   But we'll be talking about not just all the things that we've done in our business, not just the things that we've done & seen while working with countless other business owners for the past 20 years. On the podcast we will also be talking to successful business owners to find out what they've done – really, practically, tactically, step by step, what they've done to give them the Profitable and Lifestyle Friendly Businesses they have today.
I'm here, with the simply smarter numbers podcast to unapologetically force you to rethink and reset your daily business practices, habits and activities. You'll find out what you need to stop doing, start doing and keep doing to reach your business goals.  And if one of your big business goals is to have yourself a Lifestyle Friendly Business – one that  improves your lifestyle rather than one that sucks the life out of your lifestyle – then you need to be listening to this podcast every week! So hit subscribe and start tuning in weekly!
>So, if you asked me 'why' a business profit coach?  My answer is because I've seen firsthand the before and the after.  And I'm telling you – the after is SO. WORTH. the effort!  The before might be profitable but it's crazy busy.  The after is profitable but with a decent lifestyle as well.
>As far as what a Business PROFIT Coach is?   Well, there's a bazillion things we can be doing in our businesses to improve our sales, our operations, delivery, services, customer experience, marketing, our productivity, our online presence, our teams, our technology, our mindsets, our relationships, and the list goes on.   Just because there are literally a bazillion things you can be doing as a business owner, doesn't mean you should be doing them.   As a business profit coach, I'm here to find 1 thing.
*The fastest way to the smartest long-term sustainable profit.*   And that smart profit – you guessed it – allows for a quality Lifestyle Friendly Business.
Just because you CAN spend time and money improving your online presence doesn't mean you should.  Maybe you should be spending that time and money revisiting and re-engaging with past clients? Maybe that will get you a faster, smarter profit.
Just because you CAN hire a new team member doesn't mean you should.  Maybe you should first dig a little deeper into what other employees are doing. Are there things they can stop doing or do differently, more effectively.  Can they take on the work of this potential new team member?  Maybe that will get you a faster, smarter profit.
Just because you CAN add a new low-priced service into the mix doesn't mean you should.  Maybe that time and headspace could be better spent adding something of high perceived value to your existing service offer and increasing the price.  Maybe that will get you a faster, smarter profit.
At the end of the day, I'm a Business PROFIT Coach so that none of us – not me, not you, lose sight of the fact that we are here to build you a profitable, lifestyle friendly business.
I work with business owners to help them make decisions and implement activities that increase profits, but not at the expense of their lifestyle.