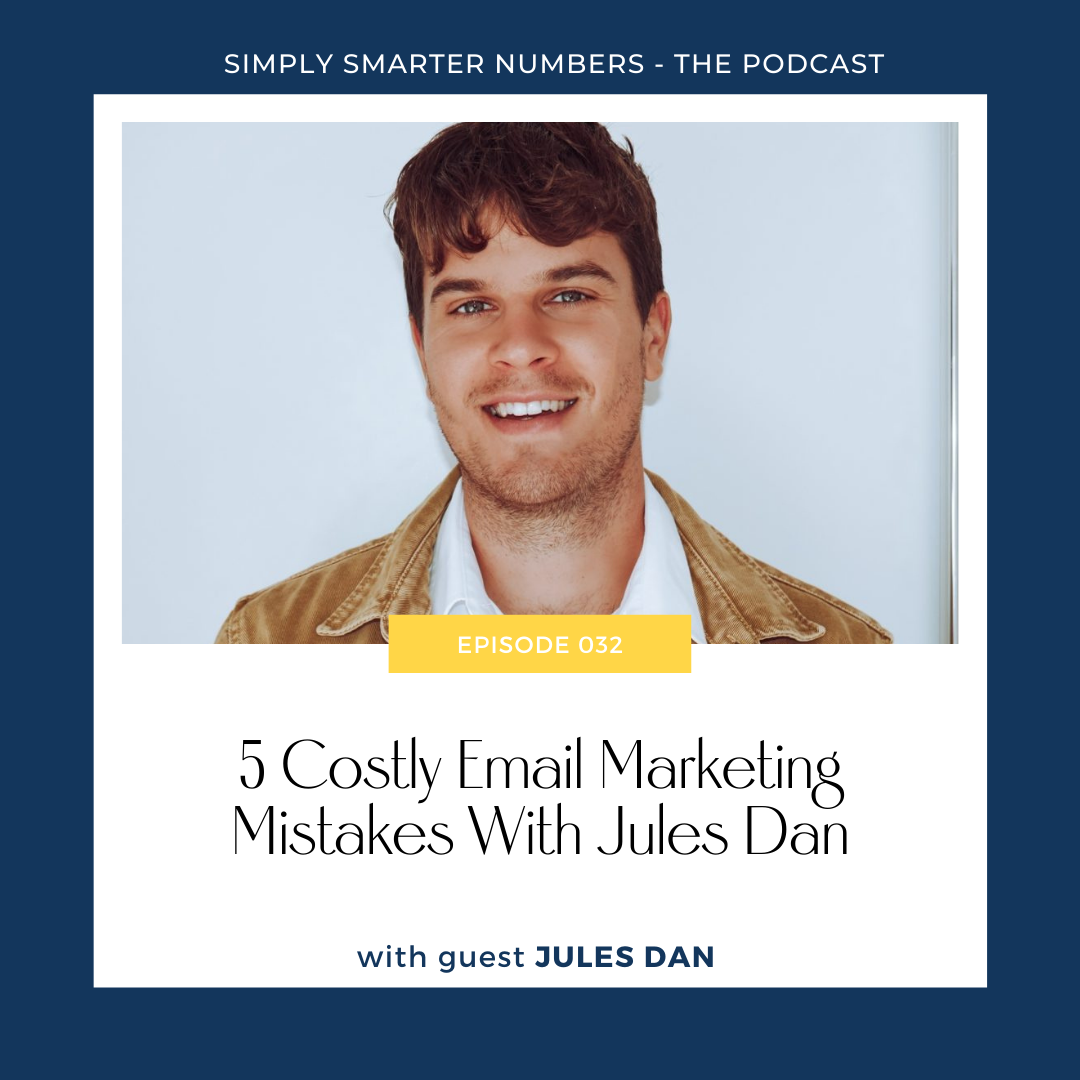 Today I'm joined by Jules Dan. He's a group fitness instructor turned email copywriter and has a passion for stories. Today we are digging in email marketing and in particular email marketing mistakes.
Whether you're currently using email marketing, thinking about using it or you know that you should be, this is the podcast for you. We are chatting about the email marketing mistakes that we make in our email marketing and importantly, how to avoid them.
Jen Waterson
Today I'm joined by Jules Dan. He's a group fitness instructor turned email copywriter and has a passion for stories. 
His podcast Storytelling Secrets, uncovers how the power of storytelling can be used to instantly connect with your audience. 
Today we are digging in your email marketing.  
Whether you're currently using email marketing, thinking about using it or you know that you should be, this is the podcast for you. We are chatting about the mistakes that we make in our email marketing and importantly, how to avoid them.
Welcome to the podcast Jules Dan.
Jules Dan
Jen, it's a pleasure to be here thanks so much for inviting me on and were going to talk a lot of things to do with email marketing especially the mistakes people make. Can't wait.
Jen Waterson
Yeah and I know myself, I struggle with it, I know there's so many people who struggle with email marketing so I'm really looking forward to having the conversation with you but before we dive into it, just tell us a little bit about yourself and your history and what it is that you do.
Jules Dan
My history, you're going to learn a lot about me in this podcast because I like to teach in story, it's a lot more interesting and you absorb the information a lot better.
A little bit about me is I used to be a group fitness instructor with some marketing side hustles as I was trying to get out of that position, so I would be doing Facebook ads, chat box, trying to find my thing, I'm sure many people have been in that situation, just jumping from one opportunity to another.
Then Covid hit and my girlfriend was in Adelaide, I had a choice whether I stay in Melbourne or chuck all my stuff in a car and I didn't have a lot of money or clients, I was on up work at the time and I took a chance, went to Adelaide and slowly but surely worked my way up. I went all in into my side hustle of doing email copy for literally $5 an hour, I don't know how I made it.
I just went from one client to a better client, re-invested all my profit into a coach and mentor and it has been the best investment of my life. I write a lot of email launches and webinars and stuff to help people consume their products with emails so a lot of fun things.
Jen Waterson
I saw on your website you do a lot of email sequences and that for people but I really love how you say you just really jumped in and did your work for the $5 an hour because sometimes you have to do it in order to find out whether you like doing it, whether you're good at it and then also get your name out there and get testimonials and that sort of thing.
I was just writing myself a podcast yesterday about the things I have learnt myself in the past 12 months and one of the things was exactly that, giving in and just having a go, doing a freebie for the right people and then see what happens from there. It's such a great way to start growing your business.
Jules Dan
Yeah and the thing is I didn't just wake up and go I want to do email copying, I had some experience, I had dealt with clients before just in other marketing industries and I really liked writing because I thought that was my line of genius but I don't have any client testimonials so I'm going to start from the bottom like you said.
It was annoying at the start and I did have to live below the line to get past it but those days are behind me and I'm very lucky but I did it.
Jen Waterson
Yeah very good. I'm really excited to have a conversation with you today about your free offer on your website which we will get too but we're actually going to talk about the five costly email opt in mistakes people make and how to avoid them, so how about we jump right into it because I know we all make so many mistakes, I'm sure I do it everybody does it, but if you could enlighten us a little and give us some direction that would be fantastic so number one, hit us with it.
Jules Dan
Okay cool so number one is not knowing or understanding your market like your best friend. This is the stuff that is the unsexy research and the way I found this out by accident is like I said at the start, I was doing a lot of Facebook ads for clients, just doing the basics like coupons and giveaways and they would convert but when it was time to sell something, I was just guessing which is not the right way to do it.
No one was buying, didn't understand why and then I had this crazy idea, I wanted to put this email order responder, basically like a story sequence into a chat bot and to do some research this time I gave my client a questionnaire and then she refused to do it, she said I hate writing I refuse to do this, so then I interviewed her and when I did this it was really clear what her problems were, what she really wanted at the beginning.
She wanted to help teach people create Facebook groups and be a leader in their niche, that was what we were selling, and after that interview all the things came much clearer and all the struggles she went through, that's what her audience was going through as well.
That's when I had my really big break through, we put that thing together and out of 113 people who went through it, 61 people went to a strategy page and that's when it clicked like okay you can't skip on this research stuff you have to do it.
Jen Waterson
Yeah and I have done a little bit of that myself, I had somebody suggest to me when I first started this business, hey what are the pain points that your target market are experiencing and that sort of thing, you have that conversation and you think you know but they suggested to me that I go and have some Zoom calls, this was before everybody was on Zoom. I got half a dozen different people who I believed to be my perfect target market and we had an actual conversation and hit record and recorded conversations I expected go for 20 minutes which ended up going for an hour and the amount of information I was able to draw from that and their words, you aren't going to get that information from written words.
Jules Dan
Yeah it's a win-win.
In interviews as well you pick up on tone, and it's just minor things you wouldn't pick up on. I personally do ninety minute calls to get to know them and then after that I will follow up with their clients. That's the level of research that goes into it. I'm not saying you have to do that but you probably have a lot of intel as a business owner yourself but you've probably got a good relationship with 3-5 pf your clients, just set up a call, make them feel comfortable and then get to the reasons why they buy.
That's mistake number one. 
Jen Waterson
Yeah great advice. Number two.
Jules Dan
Let's get into it, number two. This one's a bit contradictory to what a lot of people think but I'll get into what I mean by that in a second. Number two is not sharing the common stories and objections your audience has.
We've got that that intel from the start and what a lot of people I see, with opt ins of over 50, and a lot of them will throw together a lot of content which makes sense because you want to give all this value.
Jen Waterson
That's a real thing at the moment too, content marketing, people are pushing content marketing which you assume you're doing the right thing but continue.
Jules Dan
Yeah the thing is the whole goal of an opt in is they opt in for your freebie then you want to transition them into the next offer so it might be a good idea for you to segue into the next offer and you can still use content but disguise it differently.
I did this launch in 2019, it was trying to replicate with what I did with Chantelle, that chat bot auto responder series as a coaching program. I did post webinar emails and it was like teaching a bunch of extra stuff and nobody clicked, nobody bought, I was absolutely devastated and that's when I realised that every email that you send out after someone opts in, they need to be breaking objections, telling stories in a way that still teach and give some sort of lesson but they're supposed to be knocking down beliefs in their head rather than being like, have you checked this blog or podcast, those are important but there's got to be some strategy behind what comes after that opt in.
Jen Waterson
Yeah okay so I guess it's easier for people to consume it as a story as well as opposed to more and more valuable and useful information but less learning and more of a feeling, like getting to know each other. Is that type of thing?
Jules Dan
Yeah universal stories like I've been through the same pain, I've been here before, if we get this research right it's like how frustrating or how overwhelming it, and filling the blank of all these pain points and telling the story and that's why when I overcame it, that's the important part.
You overcoming it, you helping your clients overcome it, those are the stories that really help break the ice.
Jen Waterson
Yeah and I guess it's also about having the awareness and making them aware that you understand. Even if you're not solving the issue right now in that moment it's about that you get what it is that they're potentially going through or what they might go through in the future.
Jules Dan
Yes exactly and to touch on your point, content marketing is definitely so important so that's why it's called a series when someone opts in, it goes through an automation series and this is what we send out to them automatically, it's almost like a sales pitch.
When they come out, that's when they go into your daily or weekly emails and that's where you normally deliver the value in the content, so definitely not dis-valuing content it's just all about the timing.
Jen Waterson
Yeah and does that kind of lead nicely into number three?
Jules Dan
Yes but we are still talking about the auto-responders so someone might be thinking okay I've got an idea about the stories, I've got the research, what's the strategy behind the emails? That's the third mistake, a lot of the emails I've seen out there, there's not a lot of strategy behind it.
Jen Waterson
Yeah and I think strategy is the thing where we think how do you sit down and work that out? What is my strategy? Because we tend to go okay I know I need to send an email this week and you just send it out and think you're doing the right thing and ticking that box of sending that regular email but when you don't have a strategy it's kind of pointless. Does it do damage? How does it work?
Jules Dan
So many thoughts run through your head, I get this all the time, what will my clients think? Will people judge me off what I'm writing? Will people unsubscribe? We could do this on a separate topic on mindset of what it takes to publish content because you will fight those battles.
The main part is what's the strategy, I kept asking my coach this, I had a new client come in, different niche, doing something different, I said what's the strategy? He would always say Jules, you've got to ask the question what's my objective and then work backwards from that. If you want them to book in for a call what do you have to do? You have to sell the call. What do you have to do before you sell the call? You have to establish your credibility, establish that you help people, establish that you know what you're doing, and how do we do that? That's how you work backwards from there.
The way I did this with a client, they were a video marketing agency, so I wanted to go through some questions that a prospect might have in their minds, so they had a YouTube ad, when they clicked on the YouTube ad they went through this follow up series to book in for some content video package, so I have to answer common objections one by one that they probably have.
Number one is why do I need video marketing? I probably want to explain that. What are some major benefits? This is pretty obvious. But then I got deeper into my research call and these are some of the things you probably want to bring up, I didn't know this but people are deathly afraid of being on camera. Did you know this Jen?
Jen Waterson
Yeah it is. Absolutely.
Jules Dan
So I have to address what if I'm camera shy on this.
Jen Waterson
Yeah so there's all these barriers to taking up the end product.
Jules Dan
Yeah so it's taking someone through who is probably afraid of I don't want to be on camera to having complete success with these video marketing guys because she went through it.
I went through the story, she had to do like 50-100 retakes the first time and the main benefit for the consumer is that they've got acting coaching and that's the little sell in that email.
There's why can't I outsource? Why can't you just got to the Philippines to do this? The point is you want to hire a local that trust your business like your own, this is boring and different it won't work. I think you get the picture.
Jen Waterson
Yeah it won't work for me, everybody will find out their own different individual things they're floating around in their heads that's stopping them from progressing with whatever your objective is. Whatever you're trying to sell or get people into.
Jules Dan
So what blocks have you had when it comes to say like what do I write about? I'm curious.
Jen Waterson
I actually personally get a bit too high level and I am constantly like no I can't write about that, and try to simplify things and then I'll get down to simplify it and I'll go no that's too simple. I don't want to make it too simple so I have these inner conversations with myself constantly about whether I'm going too deep or not deep enough. Those types of things and then I'll just put it to the side and not end up writing anything.
Jules Dan
That's a good point you mentioned, you seeded an idea and often at times I will have heaps of ideas and halfway through, I'll be like, definitely not sending this email out today but the thing is when you sit on it for a couple of days and come back, that's when you get clarity. Secret little copy writers tip there.
Jen Waterson
Actually that's a really good point I know if I'm thinking about a podcast topic or writing a blog or whatever, I'll always have, not purposefully, but I have discovered that if I come back a couple of days later there's always that bit of extra clarity around what it is that you're writing and you have the opportunity to go back and say now I know what I was really trying to say and I have the chance to slightly adjust and give yourself a little more comfort and hit go on whatever it is that you're doing.
Jules Dan
Totally, I highly recommend that.
Shall we get into number four?
Jen Waterson
Yeah definitely.
Jules Dan
So the fourth mistake is not using direct response principles. If you don't know what direct response marketing is it basically making means you're writing to get a response.
That is the whole aim. We use these persuasion and psychological tactics to get you to click. Isn't that cool.
Some of the mistakes that I see especially when you're opening an email is a lead sentence has got to be good, it's got to hook them in. There's a few ways you can do this, one of them is short sharp sentence that are incomplete, like at last, it had to happen, that's instantly opening a loop in someone's mind like what had to happen?
I love doing those. I love using curiosity based openers in my lead sentences. If you find it's a really long sentence at the start definitely wait on it and think how can I write this a lot simpler?
Jen Waterson
Yeah just get rid of some words. That's another thing I do a lot is I'll write huge long sentences and then eventually you'll come back to them and say hang on a minute I can cut out three quarters of this and say it so much quicker because people don't really want to sit there and read the whole thing, there's a lot of skim readers out there and it makes it so much easier for them if you can just cut.
Jules Dan
Yeah you've always got to cut. Just think about it, people are distracted right, they're on emails, if you're writing a 600 word email they're probably not going to read every word, you just want every chance to rope them back in and that's why I love short sentences.
Okay let's get to the second principle and that's using urgency throughout the email. Here's a mistake I see, let's say someone has got a time thing on there, someone opts in and they've got 48 hours to claim this offer and they'll say this at the very end so it would be a good idea if you include urgency at the start.
In the first few opening lines you're going to remind them that hey I've got this thing coming up and it's only going to last 48 hours. Obviously give them a reason why there's this urgency, everyone hates fake urgency.
That's the key thing, always remind them at the top and at the bottom.
Jen Waterson
That's a good point, I think we all tend to go straight to the bottom of the email and then assume they'd get to the bottom of the email.
Jules Dan
It is true, the PS is the most read part, I'm not sure where that comes from but apparently it's true. Do you read the bottom?
Jen Waterson
No I don't think I do. I'm a skim reader I'll scan over things and if there's something there that jumps out at me it's likely to be because of the way it's written, whether it's more bold, it'd be interesting to go and think about that as I do look over emails, what is the thing that really grabs me?
Jules Dan
I'm also curious as well, I'm a skim reader too, if it's a bit blocky I tend to tune out, some people like three paragraph lines, some people can't stand the one sentence per lines, how do you prefer to consume your emails?
Jen Waterson
I am not a block reader. I like to read generally, but not when it comes to emails or when I'm working and busy, or when I'm sitting on the couch with my husband and a glass of wine if I get an email come through I'm not going to sit and read blocks of writing. For me it's the one sentence at a time writing I think I do and that's what I read and consume more easily as well.
Jules Dan
I definitely do that. It's something people should consider as well. If you find yourself writing long blocky paragraphs, try break it up.
Let's get to the last principles, I find this one really interesting is using a curiosity packed PS. We were just talking about PS before and there are different ways you can do this but basically if you want people to get interested into the next email, I like to use open loops, kind of like a cliff hanger kind of like before your favourite TV show ends, they'll always do a cliff hanger.
There are a few ways you can do that, you can lead with a benefit so you can leave with an objection in the PS and one might be, I get a lot of enquires asking Nathan does video marketing actually work and the short answer is yes so tomorrow I'm going to reveal exactly why it's the best marketing strategy for your local business. So that's an example of wanting to get them curious following the objection question.
Another one might be using a benefit, like a direct benefit. This is a bit of a longer one. So, you might be wondering this all sounds great but I could never go on camera, that scares the hell out of me, I'm going to reveal a story about an Adelaide real estate agent who was petrified of being on camera and how she turned into a confident, Hollywood-like star and now she is selling like gangbusters. Here's the best bit, she saw a 75% increase in houses sold thanks to our video marketing, see you tomorrow.
It's a bit of a longer one, I did make the email a bit shorter in general but it's always keeping them guessing what's in the PS because I can't always keep having the same PS over and over.
Jen Waterson
Yeah and if that's where people's eyes are going then it makes perfect sense to save the juicy bit for the PS.
Jules Dan
What have your experiences been with the PS?
Jen Waterson
I don't pay a lot of attention, I sort of do the skim read but with the PS, I've done it myself, I might ask people to let me know what you think about X or let me know what's been working for you and I do get people hit the reply button and actually answer those questions if it's a really easy question.
I can't recall exactly what questions but something business related and if they can answer it with a yes or no something simple, they will flick back a reply. Sometimes I do have people do that and it throws me because sometimes you forget people are actually subscribing all the time and you wrote your emails that long ago and I'll get someone reply or an email pop up with a random comment and I forgot that I asked because I wrote that email months ago.
It's a fantastic way to re-engage myself with my emails as well. 
Jules Dan
Exactly and so many benefits for doing those hit reply if questions because one, it gets the list engaged which is incredibly powerful, two, it tells google you're a legit email address so you're more likely to go to the inbox so I would definitely keep doing that, they're powerful.
Should we go to the last mistake, mistake number five?
Jen Waterson
You've sent me a list of them here and I'm not really sure what this last one is so I'm interested to see what you've got to say about this one.
Not testing to see if you hit the promo tab.
Jules Dan
Yeah what is the promo tab? Do you use Gmail?
Jen Waterson
Personally I do. Not business.
Jules Dan
When you log onto Gmail can you see these different tabs on the top? Primary, social, promotions maybe updates?
Jen Waterson
Yes okay so now I'm with you.
Jules Dan
When you click promotions you're going to see a bunch of marketers in there. Occasionally I land in there, pretty much everyone lands in there and the reason it doesn't come down to a science, if you do this or exclude this then you won't land in it, google is really smart and it comes down to the ratio of how many times you use a word in a sentence, I've looked into this stuff and if you're curious like I am there's this great product by Ian Stanley it's $100 and tells you how to get out of the promo tab.
Basically the reason why you want to get out is when you test it between landing in a regular inbox you would probably get 20-30% open whereas in a promo tab it would get 15% and under. Less and less people see it especially if they don't open your emails regularly.
You didn't even know the promo tab existed Jen?
Jen Waterson
I kind of knew it was there but I would never go into it. To me if I was to go in there it would be because perhaps somebody sent me an email and I can't find it and maybe it's there if it's not in junk or something.
If I have to go searching but that's it.
Jules Dan
Yeah exactly. So how do you actually fix this? A good way to before you actually send it out to your list, you can test the email by clicking send test email. You can see if it hits in the promo tab or in the inbox and I've listed in the checklist that I'm giving to your audience, there's a bunch of trigger words here, really common ones and it might be as simple as using too many dollar signs in the subject, it might using money too many times.
You've just got to test it and the best way I test is I start in quarters, so you break the email into quarters so I'll remove say the top three quarters and just send the bottom quarter, I'll see if that passes and if it does pass then I'll add another quarter and see what's going on there.
Does that make sense?
Jen Waterson
It does. I know myself because I talk about numbers a lot, I might use the words money or profit and they seem to just pick up, I use active campaign for my marketing, and they sort of throw it back and say no you're using words that are basically too spammy because I've used the word profit, and maybe I've only used it twice but I find if I can take that word out, you tend to lose the impact of the email by removing those words because it's not like you want to be super spammy and talk money and profit but it definitely does make a difference.
That would be really interesting for people to have a look at what sort of words do throw you over into that junk promo mail area.
Jules Dan
It's especially important it's not related to an opt in, but say you've got a launch coming up, for one client I spent hours testing if it would hit the promo tab, some I successfully got out but others I just thought I can't spend more time on this it's ridiculous.
But if it's for a launch and you've got money on the line, we did really well in that launch it was a six figure, so it was well worth it.
So what you rather, more time put in it or more dollars coming out of it?
I would want the second.
Jen Waterson
Yeah that's really interesting, the promo tab is something that I guess I've always known is there but guess I've never really considered where my emails end up at the end of the day.
What about your favourite platform for people who are just getting into email marketing?
Jules Dan
You said it before, it's active campaign I use, why I say that is because it has one of the best deliverability in the market. I wouldn't touch mail chimp with a 50 foot pole because it has a really bad tendency of putting your emails into the promo tab. I get it, if you're on a budget and you just want to get started and email, it's probably the best way to start but if you want to pay a little bit extra and have a better chance of your emails getting delivered and not having your email sending name blacklisted, probably a good idea to invest a bit more.
Jen Waterson
I definitely started with Mail chimp but I just didn't like it. There was something about how the logic works that my brain just didn't like.
People talk about how easy it is and it must be but I don't know, I just couldn't love it.
Jules Dan
Active campaign is really easy.
Jen Waterson
Yeah it's visual and logical and active campaign to me was just so much easier even though it has a cost associated I didn't even think about it.
Jules Dan
I think it's $19 a month, it's not a deal breaker.
Jen Waterson
Well that's some great advice, so in summary can you run us through a bit of a summary of those five mistakes that people are making with their emails before we finish up?
Jules Dan
Sure.
Number one, not knowing your customer like your best friend or your market like your best friend. The best way to do that is to get on a call with them.
Number two is not sharing the common stories and objections that your audience has. So get that from your intel stuff like we were talking about.
Number three is your emails lacking strategy behind them. The way you get strategy behind it is you turn questions and objections into emails and that puts a logical sequence in their head.
Number four is use direct response principle such as a strong lead sentence, use urgency at the top as well as the bottom and a curiosity packed PS.
The last one is testing to see if you hit the Gmail promo tab.
Jen Waterson 
And just on that one again, if I'm hitting the Gmail promo tab, am I likely to be hitting the spam box on other emails as well that are not Gmail?
Jules Dan
Good question, I think Gmail is just promo I'm not sure what it's like for say Outlook or Yahoo.
Jen Waterson
A lot of people have Gmail don't they. Well that is great thank you so much for giving us that really helpful and practical insight into how to get more from email marketing.
Where can people find you? I know you have a podcast as well, tell us where it is people can go to look you up and follow you.
Jules Dan
I definitely want to get you onto my podcast, I know you said you were keen to come on next year. So if you like me and you liked this, go check out 'storytelling secrets' all about marketing, persuasion, copywrite, emails and that sort of stuff we spoke about today.
If you really like me go check out the freebie I'm giving out for this, it's the 5 costly opt in email mistakes and you can go check that out.
I've also got a website, Julesdan.com.
Jen Waterson
Perfect and they can go to your website to get that freebie I presume?
Jules Dan
It will be up after this episode. I've just been updating it like crazy the last few days.
Jen Waterson
Well that will be perfect because by the time this comes out you will have plenty of time to get it out there and I'll put it in the show notes as well.
I think it'll be a really good one for people to have a look at. It's actually really surprising how many of us as busines owners know we should be doing stuff differently when it comes to our email marketing, we want to spend as little time as we can and get the best response we can. I think if we can take care of these mistakes then all the better for us and our bank accounts one day.
Jules Dan
And once you do it, it's done for a little bit, you just wait for people to come through and then fix it up a bit. Once you get it done you've got an evergreen marketing asset.
Jen Waterson
That's a really good point it's one of those one off things, we do have them, whether it's your website or your branding, there's all these things that we do and once we do it you go and double check and refresh occasionally but once it's done it's done.
Jules Dan
Exactly. Thanks so much for having me on the show Jen, really appreciate it.
Jen Waterson
Thank you I've enjoyed it, for anybody that is out there, you know where to go, check the show notes out for information you'd like on Jules Dan. Thanks Jules for coming along and wherever you are in the world, I hope you have a fantastic week, we shall talk again soon.