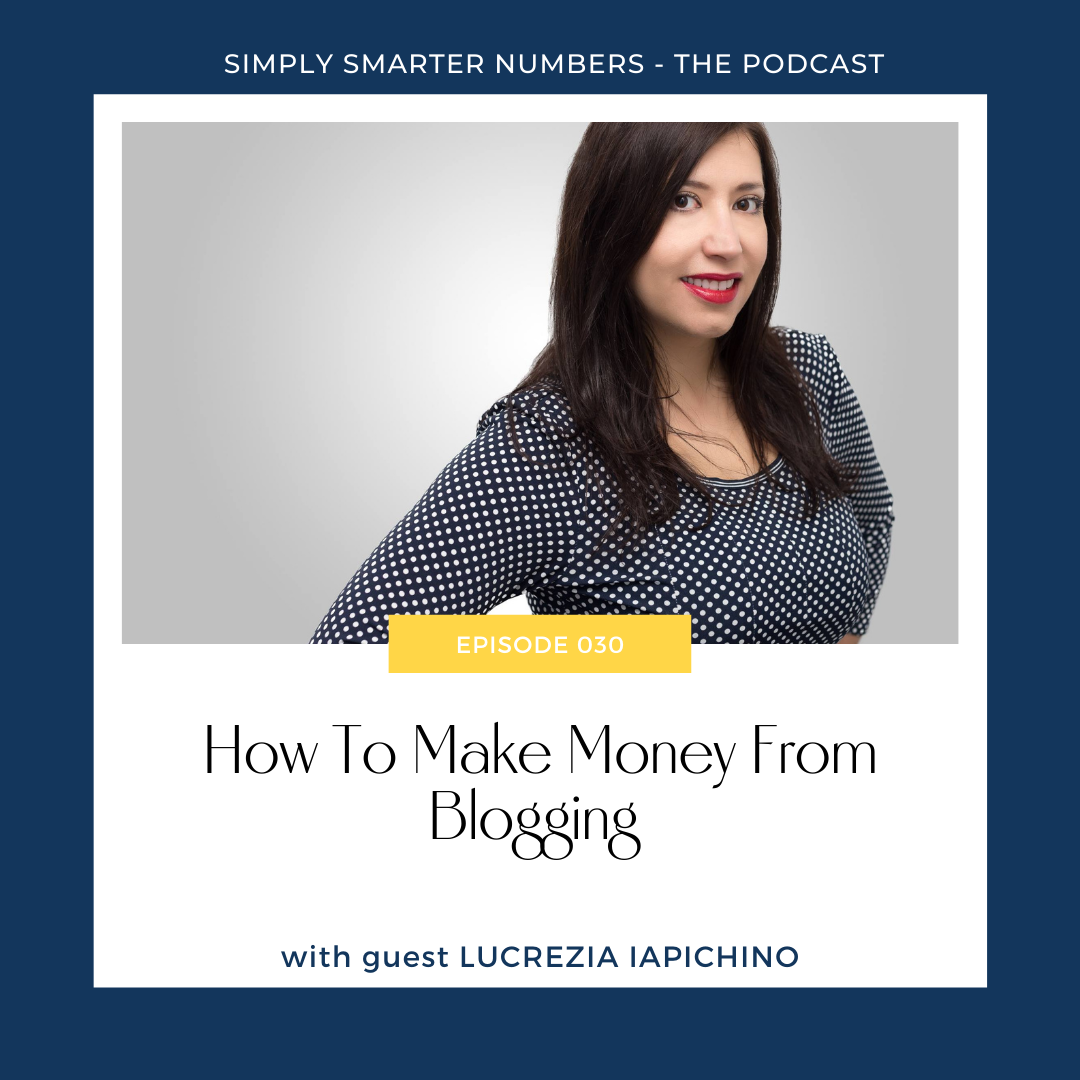 Today I'm talking to Lucrezia from Blogging for New Bloggers. Lucrezia is an ex-lawyer turned blogger turned businesswoman. If you are interested in blogging or want to make money from blogging then you need to tune in to today's podcast. Having made thousands from blogging herself and with a facebook group of over 30k members Lucrezia is here to help you get started on your blogging journey.
We tackle questions such as;
Why do we need a blog?
What types of businesses should have a blog?
How can we make money from blogging?
What are we really committing to when we start blogging; and
We also touch on the legal issues that surround you as a blogger.
Jen Waterson 
Today I'm talking to Lucrezia from Blogging for New Bloggers. Lucrezia is an ex-lawyer turned blogger turned businesswoman. Lucrezia is talking to us today about making money from blogging. Having made thousands from blogging herself and with a Facebook group of over 30k members Lucrezia is here to help you get started on your blogging journey.
 Let's dive into it. Welcome to the podcast Lucrezia.
Lucrezia Lapichino
Hi, thank you Jen, thank you so much for having I'm so excited to be on your podcast.
Jen Waterson
I'm really looking forward to having a great conversation with you today, you've got a really interesting topic that we're going to talk about, but before we get into it, just tell us a little bit about yourself, your background and what you do in your business.
Lucrezia Lapichino
Of course, I'm the cofounder of blogging for new bloggers and my background, I'm an international lawyer and University lecturer in different countries.
What I do in my business is I use a combination of my research, teaching and experience, plus over 10 years of legal expertise to show bloggers or entrepreneurs how to blog properly and legally. I help people to start writing a successful blog and make money blogging from home or anywhere in the world.
I use my legal background to help with the legal side of blogging which is often overlooked but it's really important. I offer classes and templates, make sure that that blogs align with the legal requirements and your blog and business is protected legally so you don't face law suits, fines or complaints. I can give you that peace of mind that you're legally protected.
Jen Waterson
It's an interesting combination because blogging is something that people either love doing or are a bit too afraid to get into but we'll talk about that shortly.
More recently, there has been a big shift in the world of blogging and in particular collecting people's emails which you would do via your blog. I guess it's that type of thing that it really is important to have somebody such as yourself to give you the right advice on how you can do all that and take care of yourself legally as well.
Lucrezia Lapichino
That's right especially because of the regulation that came out a few years ago, now your users or subscribers have the right to sue you so you better comply with legal requirements, it can actually happen because it's not a big institution that will come for small business owners and bloggers, it's actually people that read your blog who have the right to do something against you or lodge a complaint.
It's good to cover the legal side of blogging and your business as well, always.
Jen Waterson
We'll talk a little bit about that.
I'm sure everybody is going to be thinking where is this amazing accent, where are you from Lucrezia?
Lucrezia Lapichino
I'm from beautiful Italy but I've worked and lived in different countries. I was living in London when I met my now husband. Now I live in Melbourne but I still kept my Italian accent.
Jen Waterson
So how many years have you been in Australia?
Lucrezia Lapichino
Seven.
Jen Waterson
Wonderful. I think probably even though you're in Melbourne and it may have been tough for you the last few weeks, perhaps compared to other places in the world it's not such a bad place to be right now.
Lucrezia Lapichino
No, we have zero cases at the moment so it's perfect.
Jen Waterson
So blogging. I love that you talk about making money from blogging because often blogging is thought as the thing that can just be time consuming, something we should be doing but it can be hard to find the motivation to do it. But, when you're talking about ways we can make money from blogging it then turns it around and makes it a little more interesting.
Before we get into the specifics of that, can you tell us why we need to have a blog in our business to start with?
Lucrezia Lapichino
There are many reasons why it's always a good idea to have a blog in your business.
The top reason is that a blog will increase your visibility, it will give you the opportunity to place yourself in the next group of your field, and it will raise brand awareness but it's not only that, I think it will free you from the trap of constantly waiting to look for new clients.
Once you have a blog, you're more likely to rank in google and show up on search engines on the results page and instead of waiting to find clients, they will find you through SEO and there are other apps like Pinterest for example which is social media but people will look for a topic using key words and you will come up.
Once they find you through a blog post, you can place a really clear call to action and convert that reader into a subscriber, follower or client. This is good because you basically will find clients but it will also give them the opportunity to share your content so your audience will also be able to keep growing exponentially.
Once you write that blog post, it will keep attracting readers and get shared over and over without you having to do much more. I know with this many people will think I already do that through social media, why would I need a blog for that? Because the blog is yours, it's not on somebody else's platform where the algorithm can keep changing.
Jen Waterson
Yeah that's a really good point because when you have a collection of content that you have put your time and effort into, it's on your website, it's in your capable hands and you're in charge of what happens with it essentially aren't you?
Lucrezia Lapichino
Yeah exactly. There's no one else except for you that can decide what happens with the content. You can do anything you like with your blog posts and you don't depend on other platforms like if you do it on social media they can change everything. With your website, you decide what to do with it.
Jen Waterson
So people will tend to blog, podcast or use video, all of which are a similar way of getting content out there, just in a different form, but blogging is the easiest place to start isn't it?
Lucrezia Lapichino
It is the easiest because you can really do it in your own time. With a podcast or YouTube, there's much more involved because you need to record, usually you also do guest interviews so you need to set the times with the other person, you can really just do blogging in your time, you can do it at 2am if you like.
Jen Waterson
There's also less technical requirements too. It's pretty tough doing podcasting and videoing, at least on podcasting we don't have to look fantastic.
Lucrezia Lapichino
I think probably video is the worst because you have a combination of everything and you need to look good and prepare yourself.
To go back to your question, I think one doesn't exclude the other and I love to re-use my content on different platforms, so my content can be reused for a podcast, just adapt it to the tool you're using or platform, and reuse the content so you actually save yourself time.
Jen Waterson
Yeah I actually use my podcast, I have it transcribed then I put that on my website which turns into a blog and so I've got all those SEO things going on there and then when I'm organised I take pieces of that blog and use it in my social media so all I have to do is come up with that one piece of content and I guess it's exactly the same with blogging, you can skip the whole podcast part and just write it out, take everything out of your brain, do your content and then take little pieces and use that for your social media content as well.
Lucrezia Lapichino
Absolutely, it's all about re-purposing content.
Jen Waterson
So what types of business really benefit from blogs in your experience?
Lucrezia Lapichino
To be honest, in my experience any kind of business can benefit from having a blog, obviously there are some industries that are more profitable than others like parenting or fashion, they're the most successful bloggers but in every industry, I think a business with a blog will always make more money and be more visible than a business in the same industry without a blog.
As long as you provide value, you offer a solution to a problem in your blog, or answer a question than your blog will attract new clients for your business because the truth is that these days when people read blogs to read advice and get solutions to their problems, get ideas and inspiration, if you connect with them through your blog posts, you can offer them services and products and convert them into customers or clients. 
That's why a blog is an amazing marketing tool for your business. So every business would benefit from a blog. The funny thing is that for me and many other people who want to start a blog, it may be the other way around. For me, when I started a blog I didn't have a business, I will go a bit into my personal story, when I started blogging it was a creative outlet because my husband and I were trying to conceive but it wasn't happening for us, it took us almost five years to have a baby, so while going through our fertility journey I needed something to take my mind off it so I started blogging and I started a lifestyle blog and then it was so successful and profitable that what started as a hobby became my business.
Of course now the blog is a marketing tool but my point is that if you already have a business, it's even more important to start a blog and grow your business and attract more clients.
Jen Waterson
It definitely adds a level of credibility, I know whenever I'm looking at anything, it could be a website designer, a branding person, any type of business, if I'm looking on their website and they have a blog, even an outdated blog, it just adds a level of credibility when I see you've taken the time and effort to help other people understand what it is they need to know before they work with you or how they can perhaps do something themselves. It adds a distinct level of credibility.
Lucrezia Lapichino
Yes absolutely. With the fact you can actually through your website automatically change the date of your blog post, always update it. I would recommend updating your blog posts for real and then changing the date.
Jen Waterson
You spoke about monetising a blog, so how do we make money from a blog? What does that look like? How does it happen and where do we start?
Lucrezia Lapichino
Lots of different ways. You can monetise a blog, the basic one is probably display ads, you can have display ads on your blog and you will get paid for clicks so when a user visits your blog and sees an ad and clicks on it, you will get paid a small commission from the ad network.
I don't particularly like this way of monetizing a blog because you need lots of traffic and I think a very common way to make money blogging that doesn't require much effort to start with is by affiliate marketing which is basically the fastest way you earn a commission by promoting someone else.
Jen Waterson
So what would that look like? If I'm writing a blog, how does that work practically with an affiliate? Let's say I do my blog and I'm talking about business growth and it's about looking at who my target audience is which is service based businesses that are super busy and growing and are looking at re-branding, so it might be a branding expert. Or it might be that they're looking for specific accounting advice, so it might be an accounting firm. Something that I don't do.
Lucrezia Lapichino
When you write a blog post, because as I said it's usually to provide a solution for a problem they may be facing. You were talking about somebody who is already an accountant but in my business what happens is people don't know how to do accounting and so they need to know how to track expenses and profit so in a blog post I can explain how to do that and then they can recommend a tool like Xero and recommending that software that would do the work for them, so the person reading thinks if I buy Xero it will do the calculations for me, so you can place a link to where they can purchase Xero and Xero will pay you a commission if they end up buying it.
Affiliate marketing is really good because you basically don't have to create a product, you can use other people's services and products and tools.
This is a very profitable way to make money blogging, also brands will pay you to write blog posts or social media posts about their products this is called a sponsored post. You can say hey I notice your audience has many people that would benefit from buying our tool, if you're a new blog usually the rates would go between $100-150 per sponsored post but if you're an established blogger with a good social media following, then you can get thousands of dollars for posts, so you could say would like to share your experience with Xero with your followers and we'll pay you. So that's a sponsored post and you always need to disclose that you were paid to promote them. That's another way to make money.
Even if you're a small blogger with not much social media following you can still get some contracts and approached by brands if you're good. Also, networks, they can put you in contact with brands. My favourite way of making money blogging is by creating your own product or services. If you have it already, even better. So you could create an e book or membership site, service or product. Products can be physical or digital like pintable's so if you already run a business this could be the best way to monetise your blog.
The sky is the limit so you can with your own creativity and imagination find different ways and it doesn't mean you need to find one, I do many. What I want you to know though is that it might take a little way to make money at first especially if you're new to the scene. So my first month blogging I made a very small amount, it was under $28. Ever since, my income has been growing exponentially.
Usually people that stick with it do make money but I want every one that is just starting that it usually takes a lot of work at the beginning and on average, people take between 6 months and a year to break the five figure monthly selling and then you can scale it from there. In my opinion, people that don't make money, it's probably because they have given up before seeing results.
Jen Waterson
So should it be like a thing that people are doing weekly or monthly, what do you recommend? What's the commitment here? If I say I'm going to take up blogging and I'm going to really get stuck right into it and do it once a week, what's the typical approach?
Lucrezia Lapichino
Typically I would say once a week, I'm not a big fan of giving numbers because blogging takes a lot of time so I love your question and I think it's a great question that everyone should consider when they are starting a blog but at the same time, I usually don't give an exact schedule and the reason is because there's so much involved in blogging other than just writing a blog post.
Jen Waterson
It becomes a big commitment doesn't it?
Lucrezia Lapichino
Yes, a big commitment so you need to have a schedule that you know you can make work.
In my opinion, the most important thing is that you need to be consistent and you need to keep a schedule. Online marketing will say you need to post a blog twice a week if you want to be successful, I don't think that's true. It's true you need to be consistent with your schedule but you can choose the schedule that could work for you not for everyone else.
I think blogging needs to be fun and enjoyable in the first place so you won't give up if it starts feeling like a chore.
Jen Waterson
Yeah so it sounds like long jeverdy is more important than how regular you're posting.
Lucrezia Lapichino
Yes long jeverdy and consistency, so expect to post once a month but every month instead of posting twice a week for the first four weeks, then you'll take a break for two months and post again for one week and then disappear again, I think you should come into blogging thinking that it's a lot of work and you need to be consistent and prepared to do the work.
If you have other commitments or are still working 9-5, maybe make a schedule that works for you. If you have extra time, if you're enthusiastic and have energy, then start with twice a week so you produce as much content as possible and from there you can re-use or increase the times per week that you post.
Jen Waterson
What other types of barriers get in the way of people taking up blogging? Am I a good enough writer, I don't have time, those sorts of things. Do you have to be a great writer to write a blog?
Lucrezia Lapichino
No, I'm a terrible writer.
I don't even like writing to be honest. I'm a blogger and a lawyer which are two professions where lots of writing is required, but blogging is not like writing like normal. It's more like you write as you talk.
Jen Waterson
It's just like having a conversation but nobody's answering you.
Lucrezia Lapichino
Yeah it's exactly that.
The things I usually hear from people about barriers is that they're not a good writer so I shouldn't start a blog, but they probably forget people want to know you as you, it doesn't need to be perfect, as long as you are relatable and use your voice, which is your best weapon to make your content unique, so as long as it's personal, relatable and you offer value which can be tips or advice and you keep the main focus on the audience and not on yourself, what they need and how you can help them, then they will like it and will come back for me.
The other thing I hear a lot is it's too late, I missed the train, the market is saturated. No, that's not true either and if you don't start blogging now you're actually leaving money on the table. 
Blogging, podcasting, YouTube, they're still big and profitable so do it, it's not too late. There's space for everyone, the market is not saturated, keep the imposter syndrome away.
Just do it.
Jen Waterson
It's such an important point that sometimes we put things off thinking what do we really have to say anyway but you can surprise yourself when you sit down and start writing and get things out of your head.
I think there's a couple of things, it proves to you that you can make some level of sense and two, I do have information here that can help somebody and that gives you confidence when you can see the words on paper that you've written.
Lucrezia Lapichino
Absolutely. You will grow and get better. What I was producing in 2007 is completely different to what I create now. So just start.
Jen Waterson
I do love the idea of blogging, I have tried it in the past myself and I actually tried it when I started this business.
I went to podcasting when I thought I could do a bit of both but there's a lot of tech involved with the podcasting and it's just a nice easy way for people to get involved. You only really need a website as far as tech goes. It's just about uploading it to your website.
Lucrezia Lapichino
Yeah that's right. Compared to podcasting and video, it's much easier but if someone thinks they just need to write on Word, no you need to know how to use Word Press, so it's not that easy but it's much easier than what you're doing.
Jen Waterson
Yeah and once you've done it once or twice it starts to come quite naturally doesn't it?
Lucrezia Lapichino
I actually like to learn things so that I know what I'm doing and also when I outsource I know what to expect.
Jen Waterson
It's really important to do that if you're going to outsource it's good to know how to do it yourself first so when you're outsourcing it, you can see whether or not people are doing the best they can be doing.
It's easy to be taken for a bit of a ride I think when you're outsourcing and don't really know how to do it yourself.
Lucrezia Lapichino
I think you should know a little bit of everything that is involved in your business but then once you grow it would be better to focus on the things you enjoy.
Jen Waterson
Then when it comes to the legal side of things, you've got everything covered there, so I actually had a look at your website which I'll get you to have your website up beforehand and we will include it in the show notes because you have an amazing list of downloads, templates and different courses that people can use to sort out their own legal side of their blogging and start to learn how to do it themselves.
The legal side is really around GDPR, there's also copy wright.
Lucrezia Lapichino
There's GDPR but not only downloads, I offer two things for the legal side of blogging. One is the template which I have done for you, you just put the details of your website in and it's all done for you which is great because it will save you time and in five minutes you're done and protected legally.
Also, I offer legal classes because as I said before, I think you always need to know what's involved in your business. I offer assistance for people who want to know what's required to be legally compliant so that you will be empowered to understand the templates and relationship you create.
Jen Waterson
Yeah if you're going to spend all the time and go to the effort of creating blogs and doing them regularly and consistently over a long period of time, then it makes perfect sense to make sure you're completely protected legally.
Lucrezia Lapichino
Yeah for example before we were talking about affiliate marketing, to do it legally you will need exact disclosures otherwise brands or affiliate networks won't work with you because you need to be meeting all legal requirements, same with your audience, you need to be transparent and make sure that you disclose you're getting paid for the things you're promoting because trust is everything.
Jen Waterson
Yes by being transparent and letting them know that you're recommending this particular product that you've used and this is what you think about it but I'm going to get some sort of payment by you signing up to it using this link.
Lucrezia Lapichino
Yeah plus you have disclaimers so you're covered for liability which is helpful if anything goes wrong.
Jen Waterson
So blogging is something that all of us should be thinking about doing, if you're not already doing it perhaps you've dabbled in it in the past and it might be time to get back onto that bandwagon.
When it comes to making money from your blogging, the summary is you've got your displayed ads, affiliates or you could sponsored posts or create your own products which is kind of a more fun way of doing it.
Creating your own products might be a good way to get started perhaps.
Lucrezia Lapichino
It's my favourite way. It's also the most passive because you do it once then sell the same thing over and over again.
Jen Waterson
That's great well thank you so much for joining me on the podcast, very insightful, it's one of those things I know people think about doing but I just think we need at some point to commit to doing it.
I like your approach, if you don't have time to do it twice a week or once a week, just make it whatever is going to work for you because at the end of the day it's about getting that consistency and long jeverdy and it's a long road but that's what business is isn't it? It's a long road.
Lucrezia Lapichino
Yeah and to be successful you need to stick with it. If you have the right strategy and put in the work and won't give up, you will be successful.
You said it better than how I did but that's exactly the message that I want to send across.
Jen Waterson
So where can people find you Lucrezia?
Lucrezia Lapichino
They can check out my website bloggingfornewbloggers.com we have a blogging school where we offer free classes on how to start your blog the right away, how to blog legally. So you're welcome to enrol in those classes and also join me in our private Facebook group, blogging for new bloggers, it's supportive, friendly and very engaged community, with more than 30,000 bloggers, we have members of all levels so I would love to see you there.
Jen Waterson
Wonderful.
Definitely worth checking out the website, you've got some really interesting information there, really helpful templates and downloads and a Facebook group with 30,000 people sounds pretty good to me, all full of bloggers, I'm sure there will be lots of useful information over there as well.
So get yourself over there if you're thinking about blogging, I think Lucrezia is the person for you to be following if you aren't already.
So let's make the most of blogging, a lot of people I've seen on different Facebook groups people put up if you're in this particular target market what do you prefer, to read, listen or watch? So many people still put reading so don't underestimate the power of reading an article and I think it's really important for people to understand that it's not something that's just gone by and is history, not everything is about podcasting or video, some people love to read.
Lucrezia Lapichino
Yeah and podcasting is amazing for me because I will do the homework and clean the house while I listen to a podcast but at the same time when I'm in bed and my husband is already asleep, I read blog posts so it depends, they're both great.
Jen Waterson
Well thank you so much for coming on the podcast, it's been fantastic having this conversation with you and wherever you're listening in the world, thank you so much for tuning in, and we shall talk again soon.