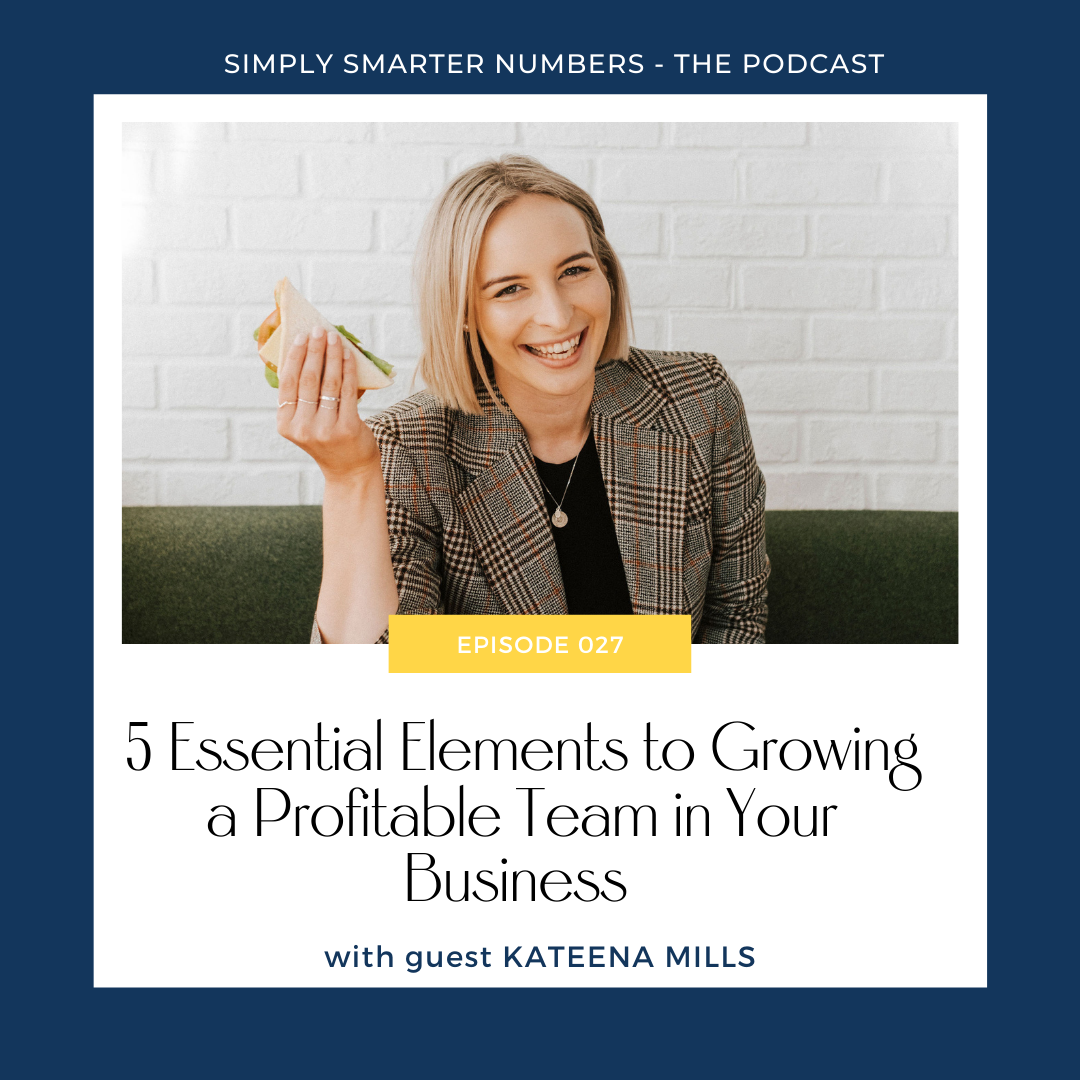 Kateena Mills from Club Sandwich HR is helping us all to build a profitable team. Building a team of people around you to help grow your business is one way to make more money but it's also one way to lose money and lose sleep!
So Kateena Mills is running us through her 5 essential elements to growing a team that is profitable, loyal, engaged and fun to be around.
We talk through;
> Setting your Vision + Goals and how this should guide all of your big team decisions.
> Knowing your Mission + Values and how you can use this to guide behaviour and inspire your team.
> Defining your Organisational Structure including roles and responsibilities.
> Formulating Position Descriptions & Key Performance Indicators for all of your team and not just the productive 'money-making' members of your team.
> Regular 1:1 Chats and how you can use casual but regular time slots for open communication to have those 'hard to have' conversations.
Jen Waterson
Today we are talking about something that I've personally had a lot of experience in, but no training in and we're talking about leadership as an employer, and ultimately how to get the absolute most from what is often the highest expense in your business. There's a lot of money to be made by employing others, but there's also a lot of money and sleep to be lost by employing others. Personally, I've experienced it in a few different ways. One as a business owner with a contractor VA. Nice and simple.
Another as a business owner with up to 18 employees. That was a little bit more complicated and then also as a CFO with over 60 employees. So that's a different kettle of fish altogether. An I've had enough to do human resources over the years to know that some things work and some things just don't work. So today I'm talking with an expert Kateena Mills from Club Sandwich HR about five tools that you need in your toolkit if you do employ or you're thinking about employing or contracting out to others.
And Kateena also has a really simple activity that you can walk yourself through to decide whether you really do need your first or your next higher. So I'm really keen to get into it. Welcome to the podcast Kateena.
Kateena Mills
Thank you so much for having me.
Jen Waterson
Happy to have you here today. This is. It can be a bit of a dry topic, but it's such an important topic and we're going to try and make it as un dry as possible, but tell us firstly a little bit about yourself, your background and your business.
Kateena Mills
Yeah, definitely can be a dry topic and I think literally was talking to someone today about HR can kind of have the wrapper being the fun police. There's a lot of a lot of different people I've had a lot of different interactions or kind of expectations of HR and what that all means. I have been lucky to work in a few different areas of HR and kind of see a broad spectrum of how it can work really well. How it maybe hasn't worked so well and then more recently, the impact that it can really have within small businesses. It's definitely something that that historically people think of as a big business thing and that small business doesn't really need HR because it's kind of a whole department that sits in the corner and sometimes we don't really know exactly what they even do. And I've kind of in my career have had like I said, the experience of working in some of those bigger teams as well as being a solo HR person within a team about 150 and then over the last couple of years worked in the consulting space with small businesses and being able to directly work with people that either don't have HR within their existing business or have kind of somebody who's inherited HR, which often is that the finance department or the CFO's that get HR kind of thrown in there from a risk perspective and getting to support a whole range of different areas of HR for all of those businesses, which is super rewarding.
Jen Waterson
You say you like you've got the experience that comes with the training and everything that goes with it. Experience when it comes to HR is it's actually priceless. Like having experience with working with different humans cause it's not just all about crossing your T's and dotting your eyes. That's you know policy and procedure and that sort of stuff all of that is super important, but it's also about finding out how to get the best out of the employees that you've got all the and I guess we're gonna say upfront that we're going to use the term employees or contractors interchangeably here. It's just about the people that you're outsourcing to really, isn't it?
Kateena Mills
Exactly and a lot of people kind of talk to us and say or I have contractors or freelancers that work for me so I probably don't need HR and that can be the case for a lot of like you said, that kind of legal side of things, because it is a bit of a different setup there, but definitely from a motivation, expectation setting  and communication, all of those kind of areas of people management. It doesn't matter kind of how people are contracted. There's all of those kind of areas that are still super relevant, regardless of an employee or contractor relationship.
Jen Waterson
Yeah, and I guess that's where we're going to sort of leads into what it is that we're going to talk about today, so we have you've given me these like sort of five tools that we need in our toolkit as an employer and or you know, when we're looking at outsourcing and they're really they are quite relevant regardless of the relationship that you have. If you're paying somebody else to do work for you, then these things that you're going to go through here today, they are the things that we would need to spend a lot of time on to make sure that we do get our moneys worth really at the end of the day, isn't it?
 Katenna Mills
Yeah, yeah definitely. And like you said, very applicable across what depending on what the relationship is, but also the size of your team and I think that's something that a lot of small business owners like. Oh, I've only got one or two people so I probably don't need to have too much structure or worry too much about having some of these tools in their toolkit, but starting when you've got those smaller teams and putting some of that structure in place can really help. If you do have to have a difficult conversation, or if you grow really quickly and you add another kind of three to five people into your team in a short space of time, that's going to put a bit of pressure on the kind of ease at which things can happen when you're super small, so having some of these structures in place for the start can then make it a lot more streamlined.
Jen Waterson
Scale and grow much faster, doesn't it?
Kateena Mills
Exactly an like you talked about before on your podcast it really is kind of getting set up and having the systems and things in place beforehand so that you can then scale and grow more quickly because you don't have to also build that as you're going.
Jen Waterson
Yeah, and I guess the other thing too, the reason why you need to be looking into this and taking notice of these types of conversations when you do just have say one or two people that you're outsourcing to, is when you've only got one or two. Then it probably means that your business is at the point where you're not quite hitting the top line, so the revenue that you really want. In your business, so you still growing your business potentially and if you've got that one or two in there, then it can take a significant chunk out of your profit, you know, and you're going to be paying a lot of money, and it does. You do take on a level of risk when you're bringing outsiders into your business, so you actually need it. I feel like you need it more. These sort of things that we're gonna be talking about today. You need it more in your business as a smaller business.
 You're not going to lose that. You don't want to lose out. You know you're only making X amount of profit anyway. You want to giving it away to you know these employees or their contractors. You know you want to get the most out of the people that you have around you.
Katenna Mills
Yeah, absolutely, and having you know when it's one or two people that either 1/2 or 1/3 of your whole business that makes a big impact. If there, if they're not motivated or you know they're not achieving what they need to achieve, then it's it's a. It's a big impact. Like you said on the financials, and then also like you said right at the start the kind of lack of sleep that you might be getting as well.
Jen Waterson
It can be really stressful. So the five things that we're going to go through, I'll just like, you know, put the headings out there so that if anyone is listening you are going to be, you're gonna know what your info we're gonna talk about vision and goals we're gonna talk about mission and values. We're going to talk about organizational structure and then we start to get into some of the more meaty And then the fifth one, which I love, that you've got this in here 'cause this is super important, is the regular one to one chats. So I'm really looking forward to getting into those last couple in particular, but we really. It is important to, you know, have the conversation around those first 3.So let's get into it. Number one vision goals. Tell us about what we beed to do when it comes to getting things right with our employees.
Kateena Mills
Yeah, so like with essentially any other function within your business, whether that be finance, marketing, sales, it's really important to have kind of that end in mind. Basically, where are we heading towards because otherwise you know it's very easy to get distracted and lost and go off track. So by having that vision and the longer term goals really clear that gives obviously you as the business owner direction of OK. Where am I going if I'm going to grow by this amount, then I'm probably going to need to have people on, but it also helps once you start to have a team to really guide that decision making for them because they know what the the big goals and the longer term kind of outcomes are that the business is looking for. And it also gives them something to buy into from I guess any inspiring and exciting perspective to see where the business is going and really commit to being a part of that kind of journey. I suppose.
Jen Waterson
That's a really good point. The buying. It's important to have a level of buying with people that are working with you and your business 'cause what you want to get out. What do you want to get from them? It needs to align with what they want to get out from themselves, if that makes sense? You need to have that level of alignment there to start with and everybody wants to be on a winning team. So if they believe that you are creating something that is going to be something that they want to be involved in, then you're going to. You're just going to get so much more out of them in the long run.
Katenna Milla
Yeah, 100% and I think it is that people like to know that they're part of something and like to be able to see kind of what impact they're having and if you can, then part of part of what this all the whole toolkit is about is really connecting people individually and therein Visual roles with kind of the bigger picture and where the whole business is going, because that can be a big motivator for people and especially kind of at this time of year or this year in particular, where things kind of go a bit wayward. An everyone gets pretty tired. It can then be pulling these tools out of your toolkit as those motivators too. They click come on, we're so close to this goal that we're wanting or remember, this is the big picture of why we're doing what we're doing. So let's kind of keep pushing through and it can be one of those things that you can pull out that kind of gets people back on track.
Jen Waterson
And it doesn't just help your employees. It helps you as well. I think when you do have that vision when you are undergoing certain times that, uh, for whatever reason, yes. This year it's being coronavirus or obviously, but there's always going to be something that's going on in business that makes it hard or tough or difficult. You know you have those times, but when you do have that vision there. It can help you as well.
Kateena Mills
Yeah, and it gives you a lot of clarity around kind of the big decisions and the next moves that you need to make because you've got that kind of end goal in mind. To be able to shift and make those decisions that sometimes are really tough decisions to make, particularly this year, it could be things like reducing your team size and those kind of things that are super hard to make, but if you've got that bigger vision in mind, you can stay connected to that and it becomes a little bit easier to make some of those hard decisions.
Jen Waterson
Yeah, so from a practical perspective, how do you let people know what your vision is? How do we have conversations with them? Is it particular meetings that we have? Is it what is it? How do we let them know what our bigger goals are?
Kateena Mills
Yeah, and so it depends a little bit I guess around how you structure that for yourself, and some people will set goals on an annual basis. Some people aave a bit of a five year plan that's kind of becoming less popular. I think now the world is changing so much, but definitely letting your team in on some of those higher level goals, but also a lot of why you started your business and the impact that you wanted to make and kind of. I guess the vision that you had for your business when you started is something that's really powerful to share with your team, and so that might be when they join your team, it might be something that you revisit on a 6, monthly or annual basis. If you have like a team strategy day where you're kind of looking at you or moving into a new space or doing some training or those kind of times can be really good to kind of bring back those visions and bigger goals to kind of do a bit of a reset. Or like I said before, if it's a tough time kind of pulling that back out and refocusing, and it might be something that you have written in like that specific wording. Or it might be just more of a conversation or a thought process.
Basically as what your vision is. I think having something written is good because it keeps it consistent, but it also can just be something that you talk to. Each kind of touch point, but definitely on a regular basis is good to be able to keep your people connected. 'cause I think it's like you have to say something 7 times for it to sink in. So you gotta keep saying it. 'cause just telling everyone once probably won't cut it.
Jen Waterson
Yeah, an. I guess it's things. Also like you mentioned, like as an example, you know if you're looking at relocating or you're looking at outsourcing too and you knew location you want to build something new in a new location. Having the conversations with your team around what it is you want to do when you wanna do it and why you want to do it, gives them a chance to be involved in it a little bit as well and it they get that little bit of ownership over it which just creates that a little bit more loyalty and a little bit of excitement around the place too, doesn't it?
Kateena Mills
Yeah exactly, they can be a part of it and you can explain how this fits into into that bigger vision and the longer term plan and really bring them along for the ride. And like you said they can. They can have some ownership over it as well, and there's probably decisions and pieces of work or projects along the way that you would be happy to have input on and have people share in the responsibility of that, and so if they're really aligned to what to where the business is going, that becomes a lot easier for them to get involved in that journey too.
Jen Waterson
Yeah, perfect, so mission and values. That's #2. Let's get into that one.
Kateena Mills
Yeah, so I guess if we think about the vision and goals is a bit more of like the intellectual or the objective kind of piece of saying, okat, this is the revenue goal that we might need, or this is the bigger kind of impact that we want to have that probably has some specifics around it. The vision and values are a little bit more emotive, so they're kind of the things that are motivating people from a feelings perspective rather than a oh, I can see that we're going to get to that stage, and I'm excited about that. It's a little bit more of that kind of how are we changing the world, or why do we get up every day? And how does it feel to come to work here? And so that's really? That kind of setting the tone for the culture quite often can be your mission and values, and whether you've got those articulated or they're just kind of innate and living within the team, it doesn't really matter because the culture will be shaped by that regardless of whether they're written down or it's just kind of the how we do things here and they get formed. That way they become really important for guiding behavior again, particularly if they articulated and giving people something to connect to and that feeling of purpose that they really are part of something that's probably doing something good in the world, because obviously we all want to feel like we're having a good impact on either just our you know customers or the community, or kind of broader from there as well.
Jen Waterson
Yeah, from again from a practical perspective. I know one exercise that we went through in our business when we were trying to build some of these values into our business. Our business had been around for a very, very long time and we were trying to build these values into it and we decided to include everybody in the team so we had over a series of a couple of different meetings with the whole team together and we sort of, you know, made it fun we had. It was light and it was fun. It was there was food and we got up and we had the big butcher pad everywhere all around the walls an we had everybody say what did they want in their workplace from a values perspective you know what do you want to see? What do you? What do you love about the place that we're in?
So they actually helped us. We as a group we got together and we came up with and brainstormed a whole bunch of values and then we as a group we sat there and said okay, well which ones are more important? How can we prioritize these? And we selected a few that really resonated with everybody.
And then from there we had them written up on a card that purposefully sat on every single person's seek so they were always there looking at you, so it was kind of a nice way to include the team and not make about you know old management were coming up with these ideas and or their values and that's going to sit on my desk now. So there was that level of involvement as well and I think people were more emotionally connected to it. Which yeah, that really worked quite well for us.
Kateena Mills
Yeah, I think involving the team definitely whatever kind of level works for you, I think is a really good idea because again, like you said before it really brings that ownership and they feel a part of what's happening. Another thing with values that's really useful is to look at what are we not so good at necessarily. Because often when we look at values from a branding perspective, it's like what's our point of difference an what are we really grayed out and what do we stand for? Whereas it can be really useful for team values to say okay, what do we need to be greyed out, but maybe we're not quite yet, and that might be, you know, with teams that get along really well, they might not want to push back or give constructive feedback on if people are maybe have different opinions. They might kind of just be very agreeable and not want to push back or challenge each other, but often that's what's needed to grow and develop and be innovative and creative is to actually push, push back and push the boundaries in a respectful way of course. So maybe for an example in that kind of environment, a value might be around, like being confident to speak up and share your ideas and so looking at kind of what your gaps are, an again that can be a great activity to do as a team to say you know, what do we want to be better at and what are we maybe need to be better at to go to that next level of our vision and making those part of the values as well rather than just the what are we really good at already? And what do people know us in the market for and those kind of things so it can be a little bit of a different mind space with that as well.
Jen Waterson
Yeah, that's a really good point, so organizational structure.
Kateena Mills
So this is one that I really love and a lot of people wouldn't kind of think of this as a leadership tool or a management tool necessarily. It's kind of just sort of as like, oh, we just have our org structure or hierarchy or whatever you might want to call it. Kind of in a folder somewhere and we talk new people through it when they come so they know whoever on is an and it is very useful for that. Or as a leadership tool. Full kind of that forward planning and thinking about okay how we're going to continue to grow this business and where do different roles and responsibilities sit, particularly as you're growing from kind of a one person show into a broader team. You're then, it's deciding this is what we talk about a little bit more later on, I think is looking at what kind of functions will I keep as the business owner and what will other people start to take on?
And really, using that as a tool for explaining where different things fit within the business where different information needs to flow and where those communication points are really important, some people within the business as a team gets a bit bigger, might not have to communicate very often, but there's going to be very critical points within the business where bottlenecks can form if things are flowing properly, and using your organizational structure to identify some of those things can be really helpful tool and again something to bring people along on the journey if they can see that there's this possible progression down the track because we might need to bring a management role in here, for example, those kind of things can be again really useful conversations for motivation, and yeah, exciting the team around growth and development.
Jen Waterson
Yeah, I think it's also really handy to have an organizational structure there that you can draw up as your goal, like you know at the end of in the next 12 months or in the next three years. This is how I ideally want to see the business develop from an organizational structure perspective. I want to have somebody that takes over the finance part of the business. I want to somebody to take over the administration of the business you know, and drawing it out there as a bit of a goal. That's kind of been something that has that. I've sort of used in the past and it's not stuck in. You know, you could change it anytime, but it's just getting your thoughts out of your head and being able to see them visually in a diagram drawn up there that you can then stand back and look at it and go okay it does that really makes sense and is that the way I want to move my business.
Kateena Mills
Yeah, and then really important to obviously think about it from a bit of a financial perspective as well as what which roles are going to be revenue generating? Which roles are kind of overhead roles? Because I think most businesses would love to have you know resources in every area that could do all the things for them that they often have to do themselves. But the reality is that that paying a person to do every single thing within a business is not necessarily viable if you don't have the balance right between those that can make money and those that will cost money. So that's another important kind of tool to use your org chart for. That's maybe not necessarily a team thing, but definitely for you. As a business owner to be able to kind of question as you're looking at who to hire next and putting that goal structure together as well.
Jen Waterson
I guess it's also for those of you that are looking at this future chart and saying okay this is what I want. But then in what order does it make sense for me to look at employing these people? You know, am I better off employing this one the finance person before the admin person or am I better off employing the admin person before? They knew salesperson or whatever it might be, and I and I think that you'll touch on that potentially when we talk through the, you know, the activity for deciding know which role you are going to hire next and higher first.
Kateena Mills
Yeah, exactly, and it might also be that you have somebody that you need to hire now and then down the track that role maybe doesn't exist anymore. Kind of as you grow and either can have more skilled people within the business or the plan might be to shift potentially more into an online space. For example, if you have some retail at the moment, yeah, exactly so that will start to shift where people are and it might not be that everyone that starts with you will continue to be able to grow with you, and so that's another kind of consideration and thing to think about as well through that process.
Jen Waterson
Yeah, so these things the 1st three that we've spoken about the vision and the goals, the mission and the values and the org structure. Those three things, I guess they get just paid a bit of lip service really, but they're really quite important. They are the real foundations, aren't they? For growing a successful team.
Kateena Mills
 Yeah, and really aligning people and having people kind of all pulling in the same direction basically is kind of what all of those things do in their own way is make sure that everyone's on the bus and driving in the same direction essentially.
Jen Waterson
Yeah that's right. And then I had a business coach once who always referred to the bus and said sometimes you need to open the door and go around the corner real fast and some might just fall out. So I always loved that one as well.
Kateena Mills
Yeah, that is a good one. Probably not a great HR process.
Jen Waterson
Anyway, I'm sure we've all felt like it from time to time. So then we move into position, position descriptions, and KPI's. So let's walk through that one here. I always despised having to draw these couple. Review them or think about them like, oh, you know this is a good one to outsource to Someone like you guys. But yeah talking through them, why do we need them?  KPI is very meaty subject. I think that can help you make a lot of money if you're looking at the right KPI's, but let's get into it. You talk through it.
Kateena Mills
Yeah, exactly, I think again it's this is a big area and you can kind of do it in a small slice or and kind of take it on as a huge project as well. I think one of the most important things in having a team is being really clear on what you expect that person to be delivering and a position description is kind of a simple way of portraying that expectation versus just having conversations and not having something kind of concrete that everyone can refer back to it is something that is a difficult process to go through creating generally, and that is something that is despised by a lot of business owners. But being able to really breakdown okay, what is it?
 But this role really needs to ideally this will happen before you hire, so that you're really clear what kind of expertise and skills do I really need to be bringing into this role so that they can achieve these things that I've kind of outlined is what's really important, and what we'll talk about in a little bit as well, is making sure that all of the things that you're putting into someone's position description makes sense together, because sometimes, especially when we've got small teams, we kind of expect people to be across everything and to be great at everything and way as business owners probably know better than anyone else that no one is great at everything, and so it's really looking at okay Where does this role make sense to fit together from those responsibilities and roles and tasks and what even might I need to keep his business owner for a bit longer or to kind of split off into a separate role or to outsource or whatever that might be?
So getting really clear on what you expect this person to be doing an then the position description is basically the way that you can communicate that with your new employee. So really looking at basically what success looks like ndthat's where the KPI's really come into it to be able to very easily measure. OK, so this was the expectation. This is what I need you to achieve from a outcome perspective. And then how are you tracking against that? So it kind of can be a full circle kind of communication framework really.
Jen Waterson
Yeah. So KPI's key performance indicators are indicators of your performance as an as a team member and I think you can get really creative with KPI's as well. It doesn't always have to be something that is very heavily numbers based. Yes, you want to be able to measure it, but you can get quite creative with them. I think as well because would you agree that you want every employee?
Regardless of who they are, even if it's the the person who answers the phones in the front office to have KPI's.
Kateena Mills
Yeah, definitely.  Everyone should have a way of measuring their success and their contribution to the business. But like you said, yeah, that doesn't have to be dollar value of sales because that's not going to be relevant for every role. But it might be you know the amount of Google reviews that you can get. If it's someone's job at on the reception desk, for example, to invite people to leave a Google review the number that they actually get people to convert with, that might be something that is a KPI for them.
So it's really looking at what's important for that role and what's realistic for that role to be able to achieve given the touch points that they have with customers or whatever it might be to give them something meaningful that they can be aiming for and that they can then be proud of when they're achieving or ask for help if they're struggling to get there as well, because otherwise you're not really sure kind of where you are in the spectrum if you're not getting that that feedback.
Jen Waterson
Which is where I think it's gonna come into its own is the fifth one that we're going to talk about, which is the regular one to one chat. So you know, if you're asking people if you want people to set their set KPI's, then there is no better way to do it than to sit down with them together one on one and say okay well where do you want to improve your performance and how can we help you do that you know? What do you need from us? And let's work this out together. And you know if people can set their own KPI's there a lot more attached to them, they're more meaningful. I think as well.
Kateena Mills
Yeah, exactly and KPI's that you don't kind of circle back and ever check if people are tracking against them are basically useless as well, so that's what the regular checkins makes sure that those kind of things that we've said. Oh this was really important and so we're going to track it then okay, are we actually tracking it? And how we going? And what does that look like and then? Has there been any flow an impact to the business or the rest of the team? Or you know how easily they are finding their workflow and those kind of things now that they're achieving these KPI's and kind of reflecting on it a little bit holistically as well to kind of say OK well are you feeling better about your job now because you can see that these boxes are being ticked and we're kind of moving things forward as well can be a really important part of those checkins as well.
A little bit broader than how they performing. It's also then, how are they finding like themselves at work are they having certain challenges or concerns or things that can be brought up? Because having those opportunities for people to voice that kind of stuff means that generally it will get dealt with a lot more quickly than if those opportunities don't exist and that things are left to kind of fester and people don't feel like they have an opportunity to discuss them it will kind of be something then that yeah can can bubble up in a bigger way than if there's an opportunity to chat about it in a, I guess a bit more of an informal way, but also in that supportive environment where how we going through this together basically.
Jen Waterson
Yeah. And I think with your KPIs too. It's also about looking at what's driving the profit that that person is contributing to and it doesn't again need to be somebody who's actually doing the do and doing the work you know your designer that's doing the design. You know, taking care of some of the some of your contracts or parts part thereof. It can be the administration team, you know? What is it that they can do that can drive profit? And it might be increasing customer experience. You know those types of things can come into it, where you can then be a little bit creative around that in and and if it gives them the opportunity to come up with their own things that they want to implement to improve the customer experience and and the KPI might be to sit down with them and say, okay, so if we agree that customer experience is a really important part of your role and something that we could as a as a business work on together. How can we work that into your role?
You know, do you want to come up with one per month? You know one per week. One thing that you can do to improve the customer experience, and yet they might not even have to actually do the thing, but just come up with the idea that perhaps somebody else can implement or and this kind of includes everybody.
And it's not just about setting strict KPI's for those that are productive workers or salespeople, but including everybody in the business and giving them a level of responsibility.
Kateena Milla
Yeah, absolutely and those kind of things as well you can absolutely tie back to your mission and values and your bigger goals and say, okay well if this year we want to really focus on our customer experience because we identified that that's an area that either we're lacking in or just that's something that we want to improve on, then linking it back to those other elements and setting it as a KPI and something that's as important as maybe the sales targets. For example, it can then send a really great message to the team as well and involving them in that like you said provides that ownership and really gets people motivated and a bit more likely to kind of get it done if they've had some kind of say in in what's happening too.
Jen Waterson
Yeah, so then the regular one to one chats, I love this one because I feel as though having a communication channel with your team is it's absolutely critical and it needs to be something that's yeah, two way that you could. You talk us through it, but I really do feel this is like a super strong part that a lot of people let themselves down in that tend not to have conversations with their team openly.  
Kateena Mills
Yeah, and it's something that again with super small teams you feel like you're talking to each other all the time, so it's probably not really necessary because you know where they're at on projects, and you know that they're hitting their KPI's and so doesn't feel like there's a need to have specific conversations.
But what I find is that having those check-ins built in, whether it's monthly or weekly, depending on kind of the business and requirements, it's then giving both parties an opportunity to have open feedback and it makes it a little bit less awkward than kind of setting up a specific meeting if there's specific feedback to be given so if there's something constructive that needs to be shared, if you've already got a meeting and one of your items on the agenda is to talk about challenges this month then it's much easier to talk about, oh, okay well, you didn't bring it up, but it was this I noticed in this client needing this happened and that's something that we would really like to address and work with how you might not do that in the future.
Having that one-on-one chat that's actually booked in can be something that makes that whole feedback process a little bit less daunting for both parties, because you've already got that in the diary. It's happening and it starts to be an expectation that that is the Avenue where feedback is shared, and so it just makes it. Something that's less out of the blue, often to be able to have some of those more difficult conversations. So I recommend having an agenda and whether that's three questions or five questions an it might be checking in your KPI's.
 You know what's being your biggest challenge this week? What's your biggest challenge coming up next week? What have you enjoyed most this last week? What are you looking forward to the most this week? And you'll find that those kind of open questions really spur on conversation with your team as well.
Jen Waterson
Yeah and from a practical perspective, again, there was a period were we were trying to do this every month like meet with each person individually every month and I would put aside two days in my calendar and say, and everybody in the team knew that it was they needed to just go into my calendar and book out that time and they would come in and they would all do it.
As soon as I'd say okay, I've put those days aside, everyone would jump in and grab their spot because it started to become something that I felt where people just had their chance to have their say. Like in a really comfortable environment, you know, we could have some great conversations and sometimes the conversations, even they weren't that great, but it gave them an opportunity to have that conversations, you know so.
I think people really kind of appreciated the fact that they did have the chance to have that half hour hour or whatever it was regularly to have their say in something.
Kateena Mills
Yeah, definitely I think like you mentioned before that the two-way nature of those conversations is really important as well. It's not about meeting with your team member and then you are just glad you are all talking to them. It is great to be able to kind of open that dialogue for them to give you feedback on how you know you might be supporting them or how something could be done differently in the business to make their job easier.
It really just opens up that discussion to be able to have that feedback flow between both ways, which doesn't necessarily happen. Kind of in an open environment with the whole team there, people might not really feel comfortable to share some of those ideas or information or feedback.
Jen Waterson
And ultimately, your team members are the ones that are in the best position to come up with the ideas that are going to help them be better at their job. But you need to just be able to plant that seed with him and give him an opportunity to have the conversation with you rather than just expect that they're just going to take it on board that, then take care of things themselves. You know it doesn't always work like that.
Kateena Mills
Yeah exactly, and giving them a bit of ownership over creating the agenda and leading the meeting. If especially if you're quite time poor, like most business owners it can be something that is kind of driven by the team member instead rather than you having to prepare a whole lot of stuff for the meeting. Potentially that's something that they can be responsible for. Coming prepared to the meeting with what they want to discuss and it's more which sounds like what you had done with your team, is kind of I'm available. So come and talk to me about what you need to talk about, and obviously I'll have feedback for you too, but it's that kind of more of just an open communication space.
Jen Waterson
Yeah, exactly, that's great. So that is the five tools, Vision and goals, mission and values, organizational structure, position descriptions, KPI's and then the regular one to one chat. Well, thank you so much for coming on the podcast. This was really helpful information. I know people are going to get a lot out of it, so where can people find you if they want to follow you or check out your website? Actually is your new website up?
Kateena Mills
It is up. Yes, it is.
Jen Waterson
Yeah okay, so I just thought that that was a new one. I was looking at it just recently and it's it's great. I love the website. It's so it's so fun so you need to tell everybody your website so they can go and check it out. Because just for the sake of it, 'cause it's a fun website.
Kateena Mills
Yeah, so we're at Club SandwichHR.com.au, on Instagram where at ClubSandwichHR, facebook is Club Sandwich HR and they were over on LinkedIn you can connect with me at Mills or Club Sandwich HR
Jen Waterson
Perfect thanks for all of this valuable advice and wherever you are in the world. Thanks for joining us and we shall talk again soon. Thanks, Kateena.